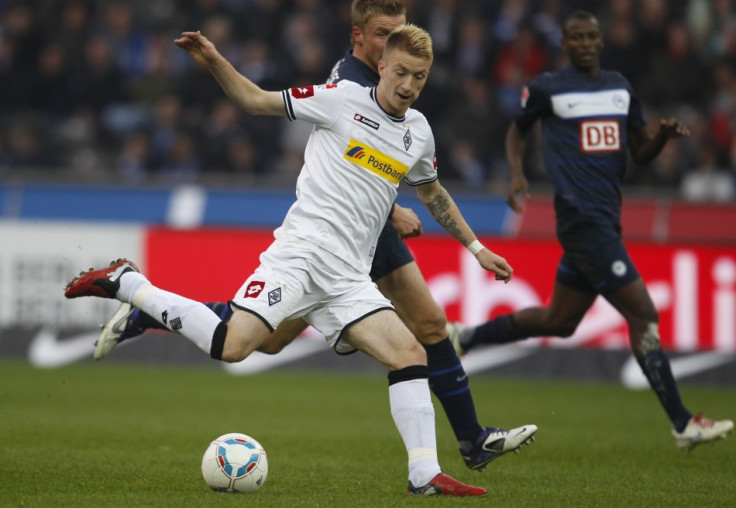 The International Business Times can confirm Borussia Monchengladbach forward Marco Reus will definitely not be leaving the Bundesliga in January despite rumoured interest from Arsenal.
Reports in The Daily Mail on Wednesday cited Arsenal's interest in the 22-year-old attacking midfielder, following a glowing endorsement from their former goalkeeper Jens Lehmann, but despite the Premier League club's confirmed liking of Reus, a source close to the young striker has told The International Business Times that he has absolutely no intention of leaving Monchengladbach at this stage in his fledgling career.
The source, who asked to remain unnamed, indicated Reus was extremely happy at the club and is eager to continue his development in Germany's top tier, particularly ahead of next summer's European Championships in Poland and the Ukraine.
Reus made his international debut last month against Turkey and is one of a number of hugely talented young players currently vying for a place in Joachim Löw's side.
While Arsenal's informal interest has been confirmed by Monchengladbach's head coach Lucien Favre, the aforementioned source told the IBTimes that the player had not received any official contact from the North London Premier League club and also confirmed that the Gunners were by no means Reus' only suitor, claiming "many clubs are interested" in the player.
The source, who is close to Marco Reus, suggested there would inevitably be plenty of speculation regarding the 22-year-old, particularly in the build-up to the January transfer window, but was adamant the youngster saw his foreseeable future at Monchengladbach.
The Daily Mail reported on Wednesday that Arsene Wenger's chief scout Steve Rowley had been so impressed by Reus that Arsenal had made tentative enquires for their attacking midfielder, who is also capable of playing as second striker.
"Yes, it's true that Jens gave Arsene the information about Marco and I then received a call about him." Monchengladback coach Lucien Favre told The Mail. "I know Arsene very well, and I told him the truth about Marco, that he is a very good player and very interesting prospect.
"But I am the coach of this club, and my priority is doing the best for Borussia, rather than helping out an old mate.
"I want to keep Marco, and I think he will stay. How good is he? If I was in Arsene's position and had to choose between Reus and Gotze, I don't think I could. I would do my best to sign both.
"But I am confident Marco can resist the temptation of Arsenal. It might just be a little too early for him to move. It would be good for him, and for us, if he stayed another year or two. He has incredible qualities, but he can still improve in some ways, and we are working with him every day.
"He needs a foundation to keep improving his game, and he has the perfect one here at this club."