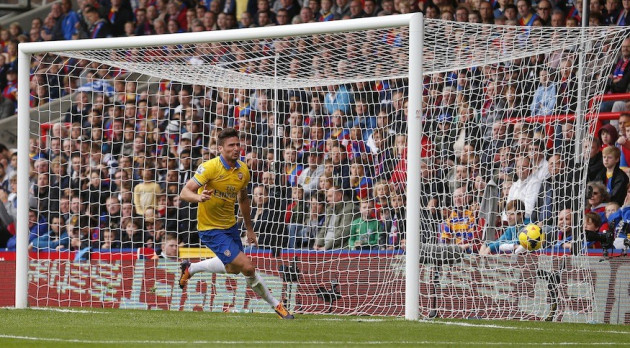 Laurent Koscielny has admitted that Olivier Giroud is tiring under the pressure of playing every game for Arsenal as manager Arsene Wenger refuses to hand Nicklas Bendtner a start.
Giroud has so far scored eight times for the Gunners and while Aaron Ramsey has been offering help on the goal front - having found the net 11 times already this season - it's been up to Giroud to play Arsenal's big games as Wenger has little to turn to on his bench.
Lukas Podolski and Theo Walcott are currently injured, and Bendtner has struggled to make an impact on the occasions he's been brought on, and Koscielny believes that Grioud is being burnt out, hinting that Arsenal need to get more depth in the squad in the coming winter transfer window.
"It's true that he's not scoring but he is setting them up, like he did against Dortmund," he told The Sun. "But he's also playing game after game and hasn't had a rest, so maybe he's feeling a bit of fatigue.
"He's very important for us -- strong and always answers the call on the pitch. If you look at the games, he weighs enormously on the opposition's defence. All the balls he wins are in the air with his back to goal. He works very hard up front."
Arsenal have been connected to multiple strikers in the lead up to January and Wenger has reportedly been given another bumper transfer budget to find a player who can keep the Gunners in the mix for trophies.
Giroud was particularly nullified at the weekend when the Gunners lost 1-0 to Manchester United, dealing a blow to their lead at the top of the table and gifting David Moyes' men the chance to get back into the title race.
But Koscielny insists that Arsenal are still confident they can maintain their position in the Premier League table and will use the international break to regroup and get back on track for when they face Southampton in two weeks.
"We are still confident. The lessons to learn are that we were too shy in the first half and we weren't able to play our game," he explained. "The second half was better even if Manchester United let us have the ball.
"But we'd played a lot of games so maybe we dropped off a bit physically. Now we have 10 days off and we will have to get the fire going again at home to Southampton."