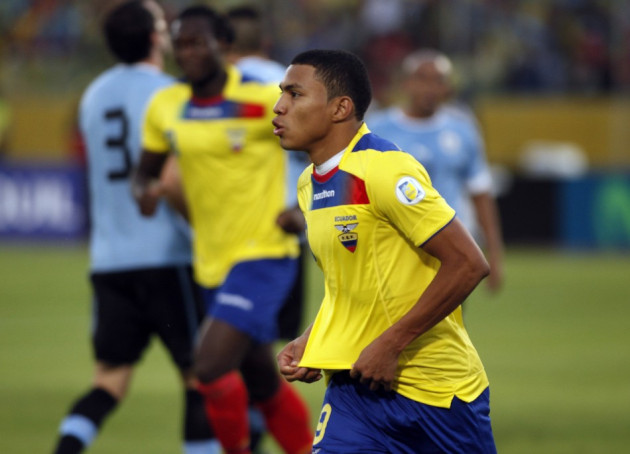 Manchester United winger Antonio Valencia believes that Arsenal target Jefferson Montero will have a huge impact on the Premier League if a club are able to snap up the winger in the next transfer window.
Having played alongside Montero for Ecuador Valencia is well aware of the 24 year old's talents, and although a stint in La Liga with Villerreal didn't work out - with the South American heading to the Mexican league in 2012 to join Morelia - the United man is insistent that his national teammate can make a much better impression upon a possible return to Europe.
Arsenal are believed to be looking at the possibility of signing Montero in the next transfer window as Arsene Wenger builds on his attacking options and when asked on Twitter who Valencia felt would have the biggest impact on a move to the Premier League he replied: "I would say Jefferson Montero because he is an intelligent player and someone who is improving his football daily."
With Ecuador having qualified for the World Cup already Montero will certainly have a big chance to show off his skills when they travel to Brazil next summer, but Valencia has predicted it will be a tough run for the side who are hoping to take advantage of the high level of South American support on hand.
He said: "I think we will have two difficult opponents. I reckon we will face Holland, England or Spain."
Arsene Wenger is set to be handed another bumper transfer budget in the lead-up to January and the manager's lack of attacking options proved to be their undoing against Manchester United last weekend.
While Theo Walcott will likely command a wing position upon his return from injury the size of Arsenal's bench has left many wondering if they will be able to keep up their fight for a title until next May, unless they can make some significant signings in the winter.