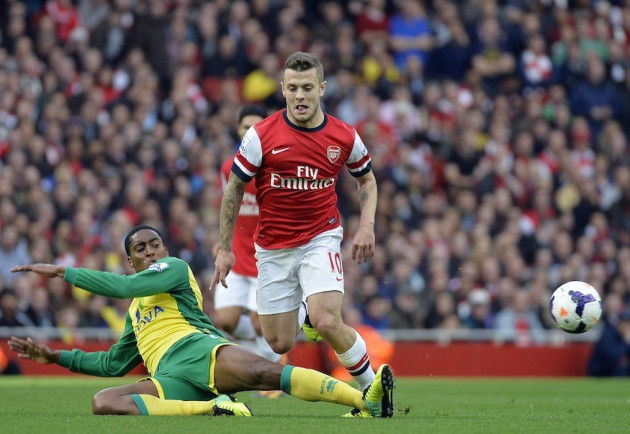 Barcelona are believed to be interested in purchasing Jack Wilshere but the Catalan giants will have a hard time convincing him to leave Arsenal after their impressive start to the season.
Wilshere committed to the Gunners for the long term last December while the side were suffering from poor moral in the aftermath of Robin van Persie making a shock move to Manchester United. Theo Walcott hadn't signed an extension even though the winger would be free to leave the following summer and without van Persie the side were suffering from a lack of goals.
But the 21 year old's commitment to the club was a serious boost considering he had been supported by Arsene Wenger throughout long-term injury spells and was now seen to be repaying the favour, but Mundo Deportivo is reporting that Barcelona believe the midfielder could serve as a long-term replacement for Xavi and Andres Iniesta and have placed him at the top of their transfer wishlist.
While Barcelona have been able to coax players from Arsenal with the promise of immediate success in the past - in recent seasons Cesc Fabregas and Alex Song pushed for moves to the club in order to compate for major honours - but it will be a lot tougher for the side to convince Wilshere to move as Arsenal's form significantly improves this season.
Going nine seasons without a trophy has left a host of Arsenal players disillusioned over Arsene Wenger's abilities. Van Persie sighted the manager's transfer policy as the reason for his departure and other players have revealed their frustrations with a lack of silverware since.
But after breaking their transfer record to sign Mesut Ozil on the last deadline day it appeared to be a new dawn for a club which were once challenging for trophies across the board.
And while Barcelona have been able to take advantage of Arsenal's lack of standing throughout Europe and the Premier League in recent years the side might find it more difficult to convince Wilshere to leave as the side sit at the top of the Premier League table and a Champions League group of death.