Bundesliga club Hannover 96 are keen on a short-term transfer for Arsenal defender Johan Djourou, according to Goal.com. The German club believe the Swiss defender would be good value for money, despite the fact he has made only two appearances for the Gunners this season... and neither has been in the Premier League.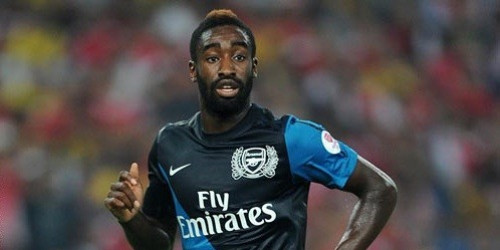 "I am able to confirm that we are very interested in bringing Johan Djourou to the AWD-Arena," Hannover president Martin Kind told German newspaper Bild, adding, "He is on our short list of names and there have been some concrete talks with Arsenal going on. We make no hasty decision. But within the next two days it's possible that something happen."
Djourou, 25, has been unfortunate with injuries in his career at the Emirates so far, but has failed to impress when given the chance. He made 14 Premier League starts for Arsene Wenger's side last season and 25 appearances overall and has made a total of 124 appearances for the Emirates club since joining the first team in 2004.
The centre back has a contract that runs till 2015 but has been linked with a move away this season, given there are at least three players (Belgian Thomas Vermaelen, German Per Mertesacker and Frenchman Laurent Koscielny) ahead of him in the pecking order.
The Mirror reported in the summer that Djourou was ready for a £10m move to either Italy or Spain, with Serie A's Napoli a likely destination. Although nothing came of that rumour, a December report by the Daily Mail reiterated the possibility of the Swiss international moving to Naples or even AS Roma. However, his agent, Flavio Ferraria was quick to stress that no official approaches had been made.
"No decision on his future has been taken yet, everything will be decided when we meet with Arsenal in the next few weeks. At the moment there has been no contact with any club," he explained.
Hannover's interest is certainly the most concrete development in Djourou's transfer attempts so far. However, even the Germans have stressed the initial move will be only a loan, with the option for a permanent transfer to depend on the player's performances.
"We do intend to loan the player first until the end of the season and we will make a decision on his future," Kind concluded.