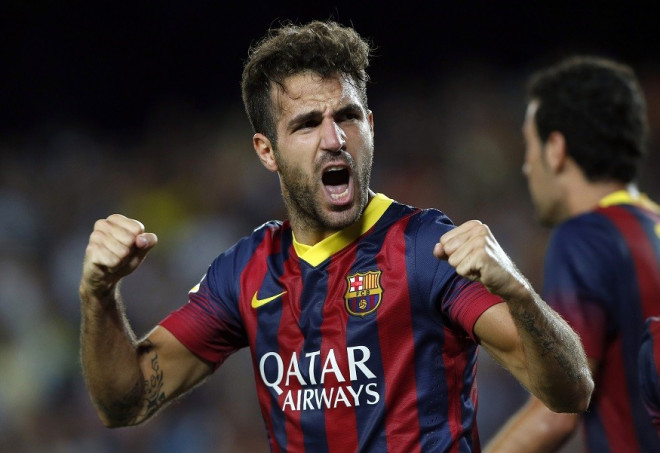 Former Arsenal midfielder Ray Parlour believes that Arsenal should pull out of the race for Cesc Fabregas this summer, and Arsene Wenger should instead invest the money on strengthening other areas of the team.
The Gunners are looking to increase their potency up front, having scored only 68 goals this season, compared to Liverpool and Manchester City, who both scored more than 100.
Arsenal have only Olivier Giroud to lead their attack, and the absence of Theo Walcott severely restricted their threat going forward last season.
Wenger's men have also appeared ponderous in defence at times, particularly in their heavy defeats to Arsenal, Chelsea and Manchester City. Many fans believe a new centre-back and defensive midfielder should be on the manager's shopping list.
However Fabregas' arrival would limit the funds available for world-class reinforcements elsewhere in the squad. The midfielder, who left Arsenal for his boyhood club in 2011, is expected to be priced at £45m, making any transfer prohibitively expensive.
Arsenal have first refusal on the player but they are already extremely well-stocked in midfield, with Jack Wilshere, Aaron Ramsey, Mesut Ozil and Santi Cazorla all available.
Parlour believes that Fabregas' addition would create a surfeit of midfielders at Arsenal, and create a damaging imbalance in the squad going forward into next season.
"They have got very similar players to Fabregas – they have Mesut Ozil, Santi Cazorla, Jack Wilshere – if you bring Fabregas back where do you fit him in? He was great for the club but forwards should be much more of a priority. You look at Manchester City and Liverpool and they have much better forwards," Parlour said.
Fabregas, who left Barcelona for Arsenal as a teenager, played for the Gunners for eight years and was one of the finest midfielders ever to appear for the north London club. However he has struggled to nail down a regular first-team place upon his return to Catalonia, prompting widespread speculation as to his future at the Camp Nou.
He is currently training with the Spain squad in preparation for the World Cup next month, and any transfer is unlikely to be concluded until late July at the earliest.