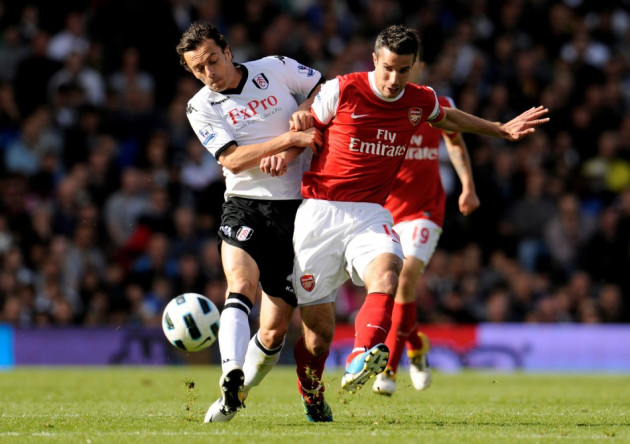 Click here for a full round-up of today's transfer news
Arsenal forward Robin van Persie has challenged the club to match their main rivals in the transfer market by making major signings this summer, amid speculation that the Dutch international is considering his future at the Emirates.
Transfer activity this summer has been heavily dominated by Manchester United and Liverpool, while much of the speculation surrounding Arsenal has concentrated on the protracted exits of Samir Nasri and Cesc Fabregas.
Club vice-captain van Persie believes the club must do their utmost to keep Fabregas, as well as adding more competition for places at the Emirates.
"He is the one I first look at to see if he is playing or not," van Persie told the Telegraph. "We have a connection together, he knows exactly when to pass, exactly when to make his decisions. He can see things quicker than others. He would be a miss for any team."
With Arsenal set to miss out on Valencia midfielder Juan Mata, the Emirates outfit have made only two acquisitions this summer -- Charlton defender Carl Jenkinson and Lille forward Gervinho -- and van Persie said he would welcome further investment in the squad.
"Every other team is buying quality players so hopefully we will do the same. You need investment to keep up because, when you look around, Man City is buying loads of good players, Liverpool are doing it now, Man U have been doing it for years, so in a way you need to keep that up because if everyone is doing something you need to do it as well.
"Everyone needs competition because no one really wants to go to sleep. In an ideal world no one is really sure of his place. Maybe the captain and the goalkeeper but all the other players shouldn't really be knowing before that they will play."
With Arsene Wenger confident of retaining Samir Nasri -- despite interest from Manchester United and Manchester City -- van Persie has moved to distance himself from speculation earlier this month linking him with a move away from the Emirates.
"I can only speak for myself but, as a player, of course you look around, you speak with the manager, you speak maybe with someone from the board, and they give you a steer, a possible picture of where the club's going to," he told the Telegraph.
"The very least for me personally is to win something. It doesn't matter what it is. It's going to be hard but, after a couple of disappointments, it is time to win something now and hopefully we can achieve that this year."
Wenger has already sold Gael Clichy to Manchester City for £7 million and will now give Kieran Gibbs a chance at left-back. The Frenchman is keen to add at least centre-back, as well as a midfielder and another forward. Any further targets, who include Per Mertesacker, Gary Cahill, Phil Jagielka, Christopher Samba and Karim Benzema, will be determined by who leaves.