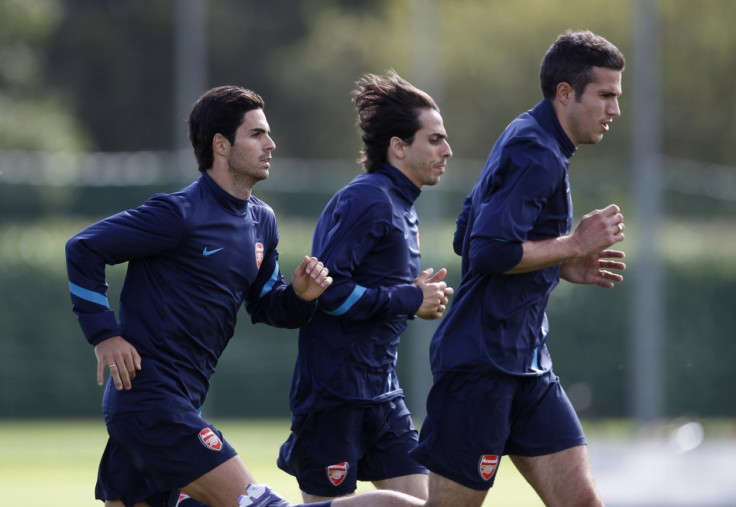 Arsenal's Yossi Benayoun expects captain Robin van Persie to stay at the North London club for a long time.
The Gunners' talismanic striker came up with yet another crucial goal on Saturday as the club returned from Stoke with a 1-1 draw that defender Bacary Sagna described as an important point in their bid to finish in the top three, according to Goal.com. The goal was the Dutchman's 28th of the league season and reinforces his lead in the race for the Golden Boot.
The striker has only a year left on his contract with the Gunners and has been linked with a move to one of Manchester City, Real Madrid, AC Milan and Juventus in the summer. However, Benayoun is confident the influential skipper will sign an extension at Arsenal.
"I think everyone knows it's important (that he stays). Each club wants to keep their best player and of course Robin is our best player and he's proved it this season. I'm sure he will stay for a long time," ESPN quoted the midfielder as saying.
Benayoun, who is on a season-long loan from Chelsea, joined Liverpool in the 2007 summer transfer window along with Spanish striker Fernando Torres, who later followed the Israeli national team captain to Stamford Bridge too.
"I've been lucky to play with some of the biggest strikers and Robin at the moment is one of the best in the world. When Fernando was on fire at Liverpool and scoring a lot of goals, for me they are on the same level. With Fernando you knew every game for Liverpool he could score, especially with a player like Steven (Gerrard) behind him. With Robin we know we must give him the right balls and he will score, and that's what he's done all season," the 31 year old said.
However, Benayoun is not sure about his own future and says he will continue to give his best in the final two games of the season before discussing his future with Arsenal and Chelsea.
"I have two more games to give 100% for Arsenal and we'll see what will happen. When I had the chance to come to Arsenal, one of the main things was the football, moving the ball quickly, and that's what I enjoy most," Yahoo quoted Benayoun as explaining.