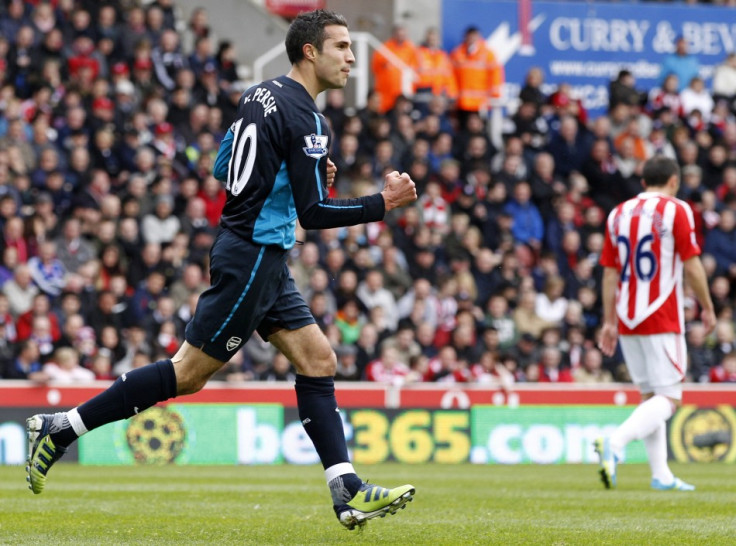 Arsenal are lining up a club record £7mn per season deal for club captain Robin van Persie to stay on in north London, according to the Daily Mail. The report suggests that van Persie, who is believed to earn £70,000 per week, will be offered a deal worth £130,000 - which is more than former captains Thierry Henry and Cesc Fabregas made. In addition, the Dutchman will also be given a £5mn sign-on fee should he sign the new contract.
The Gunners' manager, Arsene Wenger, along with the club's chief executive Ivan Gazidis, will meet the player on Wednesday, to discuss further terms and possibilities. However, there is unlikely to be a quick decision from the club captain and his agents despite Wenger looking to wrap things up before the 2012 European Championships start.
The problem is that even though the package being offered is the most lucrative in the club's history, van Persie knows he could earn more at other clubs, with Manchester City and Juventus showing concrete interest. Furthermore, it is also believed that should the 28 year old refuse to sign the contract, the club will tell their star player they intend to hold him to his existing contract even if it means he will move for free next summer.
Meanwhile, City are ready to make a move for van Persie, according to The Sun. The report says the Premier League champions, who have been heavily linked with Ligue 1 Player of the Year Eden Hazard, now want to add the Premier League's top scorer to their ranks and are readying an opening offer of £20mn for the Arsenal man.
Rumours of a move linking van Persie to Roberto Mancini's side gathered momentum after the player's agent Kees Vos admitted he had a meeting with City executive Brian Marwood at the Etihad Stadium earlier in the year. However, Vos denied the meeting was to discuss a possible transfer.
"Yes, I was a guest of Marwood at Manchester City. That is true. It was about three months ago. I meet a lot of people. Why do I need to explain? I work for a company that has 450 clients and 350 international players. I am not just the agent for Robin. I also represent Thomas Vermaelen, Keisuke Honda, Jeremain Lens and Stefan de Vrij," Goal.com quoted Vos as saying.