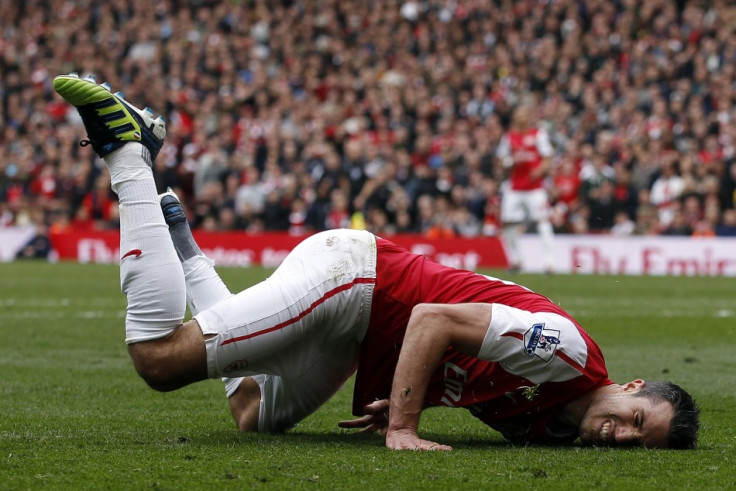 Manchester City boss Roberto Mancini feels it will be difficult for Arsenal to reject a high enough bid, for Gunners captain Robin van Persie, should his club chose to do so.
The club's talismanic Dutch striker netted 30 times last season and has been a top target for the 2011/12 Premier League champions. The player has only one year left on his contract with Arsenal and Mancini has hinted Arsenal manager Arsene Wenger could be fighting a losing battle to keep hold of his influential skipper.
Mancini signed Samir Nasri and Gael Clichy from Arsenal last summer after the French pair, who were also in the final years of their respective contracts, refused to sign an extension and asked for a move to the Etihad Stadium. The City boss is clearly hoping for a similar result this year, with van Persie.
The Italian also stated it was unlikely his club would sign another of their reported targets - Edinson Cavani - since his parent club Lazio had placed an "impossible" price-tag on the Uruguayan. He did claim van Persie's availability was another matter.
"Cavani has everything. When he was playing for Palermo, I wanted to take him to Inter. [But] To sign Cavani at his present valuation is impossible. For van Persie, it is a bit different. Gael Clichy and Samir Nasri were a year before the end of their contracts and for Arsene Wenger it was difficult to keep them," the Daily Mirror quoted Mancini as saying.
Meanwhile, Arsenal are ready to offer £15mn for CSKA Moscow striker Seydou Doumbia, according to reports.
The Ivorian, who scored 38 goals last season, is believed to have a £26mn buy-out clause in his contract but the Daily Mail reports CSKA will accept a transfer fee of £15m, with a potential final figure of £21m including future add-ons. ESPN speculates the 24 year old will hold talks with the Gunners soon about a potential move to north London.
"I am ready for the Italian championship, but also for Spain or England," the report quoted Doumbia as saying. The player's agent however, Jean Bernard Beytrison, refused to confirm the Premier League as the striker's most likely destination.
"We are waiting for official steps to be made by some clubs, and until then I don't want to say anything," he stated.