Spanish Star Would Consider Arsenal Move – Report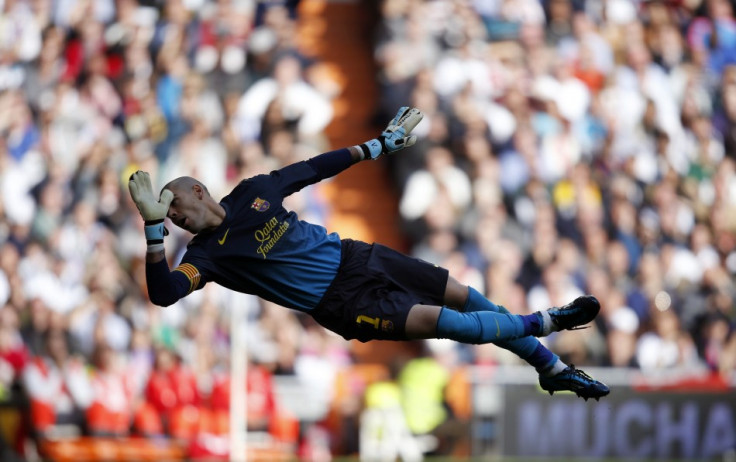 Victor Valdes has said he wants a move to Arsenal, according to reports, with the Barcelona keeper hoping to undertake a new challenge in the summer and prove he's capable of winning trophies with another club.
Valdes announced at the start of the year he would be departing Barcelona, despite continuing to enjoy unprecedented success with the Catalan giants.
He refused to sign a new deal with Barca, and now sources at the Daily Star claim he is asking for a move to Arsenal to help sort out their goalkeeping inconsistencies.
While the Gunners' number one stopper Wojciech Szczesny has always been undisputed in his position for the side, the Poland international is believed to be angering Arsene Wenger with his displays of late.
And after Valdes' talks with Barcelona over a new deal broke down, the English press has reported that Arsenal are now looking to replace their current keeper with the star who has five Spanish titles and three Champions League medals under his belt.
This summer will no doubt be a busy one for the Gunners, with Wenger admitting the club will have more money than in the past to spend on transfer targets. They are currently fifth in the table, four points behind Tottenham with a game in hand, and the last nine games will be tough for the side as they look to seal a Champions League spot.
And whether they do that or not would no doubt have a bearing on Valdes' decision over whether to move to Arsenal.
Mertesacker Noticing Change In Defence
Per Mertesacker says Arsenal's defensive line-up have made some serious changes since their loss to Tottenham, with the side hoping to find the strength to get a positive finish in the league in May.
Spurs got a serious advantage over their bitter rivals with a 2-1 win over the Gunners at the beginning of March.
That was followed by a narrow Champions League aggregate loss to Bayern Munich, but Mertesacker says now the defenders are watching extra videos of their performances to help them further improve.
"We do [this] before every game," he told the Arsenal website. "But the defenders did it on our own and I think there has been quite an improvement. We saw ourselves as a unit on the television and I think it was a good thing to do because sometimes you have a different view on the pitch and you feel different.
"It was everybody's decision [to do it]. We all had the feeling there was something to do so everybody was involved and everyone felt we needed to improve and speak more.
"The most important thing we learned was to cover each other more.
There were a lot of situations where there was no pressure on the ball and the back four was not prepared for any balls between us.
"We are always watching videos. That is not the point. Sometimes it is good to see situations and I think the very important scenes against Tottenham made it more clear for everyone."
© Copyright IBTimes 2023. All rights reserved.