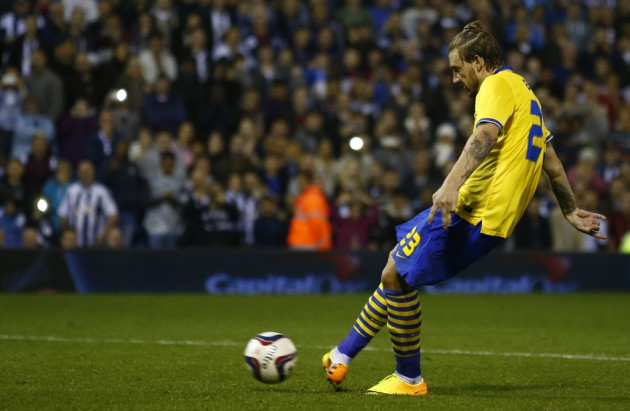 Nicklas Bendtner has moved to silence his critics at Arsenal by insisting he only ever wanted to leave the club in ordder to receive regular game time.
Bendtner has a long history of publicly asking for an exit from the Gunners and his two loan spells away from the club in two seasons had suggested that Arsene Wenger would be selling the striker in the most recent transfer window.
But after the north London club failed to land a striker Wenger blocked Bendtner's exit and has since insisted that he will add depth to an Arsenal squad that look to have a much thinner bench than their fellow title-challenging competitors.
The Denmark international was in action against Chelsea in the Capital One Cup but looked very much off the pace against a Blues side which secured a convincing 2-0 win over Arsenal to knock the Gunners out of the competition.
And despite receiving boos from the crowd Bendtner insists he wants to stay with the club and win trophies, and only asked to leave Arsenal because he wanted more opportunities to impress.
"At the moment I'm doing everything I can to help the team win trophies, as we all are," he said, according to Metro. "I've always had strong feelings towards the club and respected the club and that's something I will never lose.
"The only reason I have ever wanted to leave is to play football every week. I thought I'd leave in the summer, but I'm still here and I'm not sad about it.
"I don't regret it. I'm here, part of the group and as professional as any other player.
"That's not just words, you can see it in my matches, in my training and in my commitment."
Bendtner will certainly have a lot of work to do to prove himself to the Arsenal faithful who appear to have lost patience in the underperforming striker.