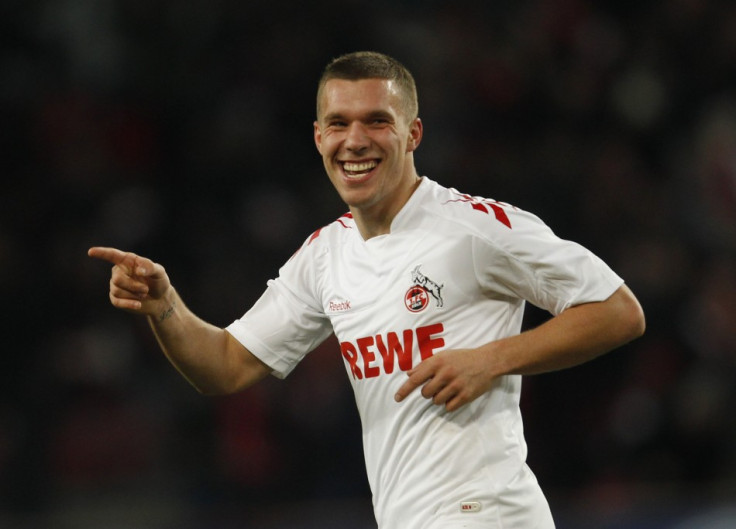 Long-standing Arsenal target Lukas Podolski has admitted that if he were to move away from Cologne in the summer, the German international would do so abroad, admitting he is becoming increasingly frustrated at his current club.
Podolski has scored 16 goals in 19 appearances so far this season for Cologne, but the 26 year old has continually been coy over where his future lies.
Arsenal were touted as a possible January destination for Podolski, but speculation came to a halt when Thierry Henry signed a two month long loan deal for the club. And now, as the hitman considers his options, numerous outlets are starting to connect the star to a possible move to the Gunners once more.
"If I were to move, then the way things stand at the moment, I would move abroad," Podolski told Bild am Sonntag newspaper.
"I speak German, Polish, English and Cologne dialect - I think you can get anywhere with that combination.
"I am always receiving enquiries and if they had been really attractive, I wouldn't be here now. But seriously, I will make up my mind no sooner than the summer."
Podolski admitted that promises had been broken at Cologne, leading him to consider a move to another club.
"I was told that a team would be built around me so that we could establish ourselves first in the top eight and then in the top six," he explained.
"I had lots of promises made to me before my move here and I wanted to play my part in achieving these things together.
"[Former Cologne coach] Christoph Daum once said that lots of promises are made, but few are maintained here and I think my situation confirms that.
"When you see what perspectives were shown to me and what has actually happened in the end, it is disappointing."
Arsenal were on the lookout in the lead up to January for a striker to help make up for the loss of Marouane Chamakh and Gervinho to the Africa Cup of Nations.
Henry was able to fill that hole in the forward line, and has been impressive for the Gunners as Robin van Persie was rested to waylay the possibility of injuries.
But Chamakh has often been coy about his future at Arsenal, and though he insisted he was staying at the club in the January transfer window, the Morocco international stopped short of committing his long term future to the club.