Robin van Persie hasn't changed his stance over wanting to leave Arsenal, according to reports, but the striker is set to enter into more talks with the club after returning from his summer break.
Van Persie revealed this month that he wanted to leave the Gunners, sighting disagreements over the club's direction as being the main factor in his decision.
Entering into his final 12 months with the side, Arsenal could yet keep hold of him if they feel they would benefit more by letting him go for free - with some bids said to be around £10 million for the striker, it would surely be more beneficial for Arsene Wenger to keep his star man if he feels that van Persie will be the difference between a Champions League place and a bottom 16 finish.
The Daily Mail is reporting that Arsenal are still hopeful of talking van Persie into staying at the Emirates after all, with the club hoping he can do a u-turn like Wayne Rooney did at Manchester United two years ago when he said he was leaving and then signed a new contract within a week.
For the Gunners, the challenge of keeping players has proven to be particularly difficult over the last few seasons, as they go for longer without a trophy.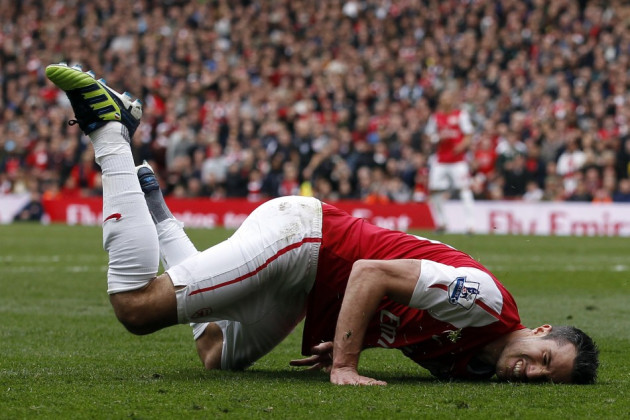 Samir Nasri was a big loss for the side last summer, with the midfielder claiming that he wanted to move to a club that were more in line with his ambitions to be the best in England and abroad.
Sky Sports believes that van Persie still wants to leave Arsenal, and the news outlet has connected the 28 year old with possible moves to Manchester City, Juventus and Manchester United.
The north London club are planning on leaving this week for their pre-season tour of Asia, and it's still unclear whether van Persie will be joining them as his situation becomes more frustrating for both player and club.
Arsenal scout Gilles Grimandi admitted last week that the side would look to Olivier Giroud as a replacement for van Persie rather than a striker to play alongside the star.
"Was Olivier Giroud signed to compensate for his departure? Yes, we worked to avoid finding ourselves in a corner," he said. "But we are doing everything we can to keep him and we want him to stay with us.
"However, if there is an exceptional offer and he wants to leave, keeping him will be tough. I would never have thought, for example, that Thiago Silva could be transferable but he was for a while. There are variables that can't be controlled."