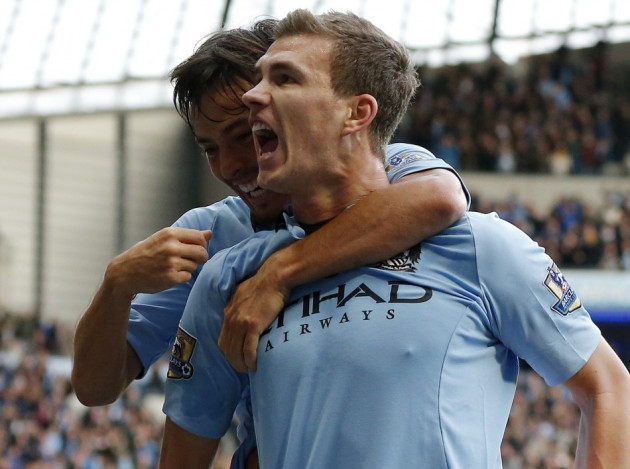 Arsenal are planning a January move for Manchester City striker Edin Dzeko in a bid to remove some pressure from the burdened shoulders of Olivier Giroud.
The Mirror reports that the player is unhappy sitting in the reserves and is looking for uninhibited first team action so as to keep himself in top form ahead of the 2014 Fifa World Cup in Brazil. The Gunners are currently top of the league and a move to north London will auger for with the striker while being a proper back-up to Giroud, who has fallen off the boil in recent weeks.
Arsenal have resorted to a style of play where they need a burly frontman to hold up the ball and allow their nimble footed midfielders to cash in and move into space. Giroud has been a revelation in this regard, but it is expected that Dzeko, who is built in the same mould as the Frenchman, will be able to contribute on a similar level. The Gunners do not have a dearth in quality in midfield, with the likes of Mesut Ozil, Aaron Ramsey and Santi Cazorla all capable of cutting through defences on their day and a proper frontman to complement their style of play will go a long way in boosting their title credentials.
The Gunners are currently top of the league with 25 points but it being speculated that their lack of fire power up front will be the main reason behind their undoing come May. Changes in the top clubs have had a massive effect on their balance and the Gunners, being the most stable among the top teams, have latched onto the opportunity. Wenger's team has been deeply affected by injuries to key players but are set o welcome back Theo Walcott and Lukas Podolski soon after the international break. Their return will come as a welcome boost for the Frenchman who has no fit wingers in the side, a trait which was exposed in their 1-0 defeat to Manchester United at Old Trafford last weekend.