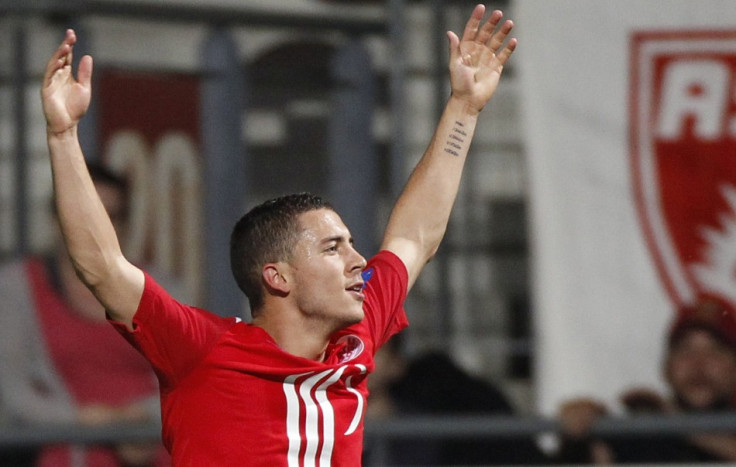 Lille have reiterated their desire to keep hold of Arsenal-target Eden Hazard until at least the end of the season, despite a number of top European sides bidding to secure his signature during the January window.
Representatives from a number of Premier League sides - including Arsenal, Manchester united and Liverpool - have all been monitoring the highly-rated playmaker, who looks set to leave the French club in the summer.
Lille remain confident they will not be forced to sell the 21-year-old Belgium international in January and revealed if Arsenal wereinterested in signing the player they would be expected to stump up a hefty transfer fee.
"We have received some very interesting propositions for Hazard, but the player will stay with us until at least the end of the season," academy director Jean-Michel Vandamme told calciomercato.com.
"He certainly won't leave until then. Then, if we can find someone willing to make an appropriate offer, we will look to reach an agreement.
"There are clubs in all of the major European leagues that want him. His price? I think a player like Hazard is worth at least €40million (£33m)."
Hazard's representative, Marc Fourmeux, revealed earlier this month that he expects Manchester City to make the first move ahead Real Madrid and Inter Milan, with Arsenal and Manchester United likely to be priced out of any move for the player.
"There is much talk of an offer of €30m (£25m) from Manchester City, which will see him remain at Lille for the next six months," the agent told AS.
"His future is in any case destined for a big European club like Real Madrid, Barcelona, ​​Chelsea, Manchester City, AC Milan, Inter or Juventus."
Earlier this month, Hazard's Lille team-mate, on-loan Liverpool midfielder Joe Cole, likened the playmaker to stars like Manchester United's Wayne Rooney and Barcelona's Lionel Messi.
"Hazard is different class. He's still only 21 and has definitely got another few gears to go up. He's got the same attitude as Rooney at that age. He's fearless," Cole told talkSPORT.
"He knows how good he is, and that's a positive thing. All the top players have got that belief and a bit of presence and arrogance, and he's like that.
"He's a bit like Messi. There's only one Messi and I don't want to put pressure on the kid, but he's like him - short, squat, powerful legs, great touch, he can finish, he's got everything."
Hazard, who has scored seven goals in 19 Ligue 1 appearances this season, has a contract with Lille until June 2015.