Arsenal are planning a bid for former Chelsea forward Salomon Kalou, following the long-term injury to German international Lukas Podolski. The former Bayern Munich star will be out for at least three months with a hamstring problem.
According to the Mail Online, Kalou, who now plays for Ligue 1 club Lille OSC, could be available for £2.6m and will ask for wages in the region of £60,000 per week. The 28-year-old left Stamford Bridge last summer after making only 16 starts in all competitions in a miserable 2011/12 campaign.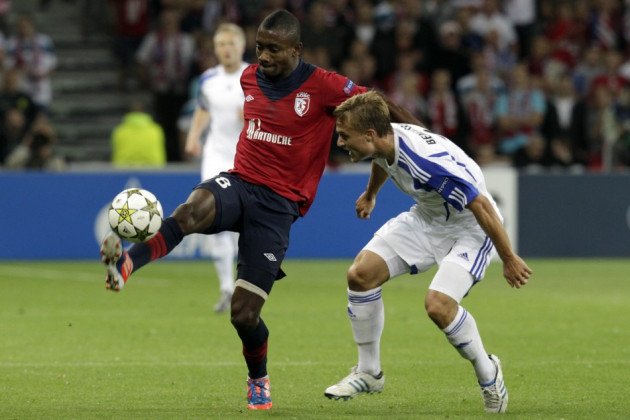 Since then, though, Kalou has rediscovered his form, scoring 14 times in 25 Ligue 1 appearances for Lille. The winger is believed to be a priority signing for Arsene Wenger, given the injury to Podolski and Alex Oxlade-Chamberlain and the lack of striking options; France international Olivier Giroud is the only fit senior striker available and Kalou will be expected to use his experience of the Premier League to good effect if he joins the Emirates club.
It is believed the Gunners' Premier League rivals - Liverpool, Cardiff City and West Bromwich Albion - are also interested in Kalou but have failed to agree personal terms.
Wenger Defends Goalkeepers
Meanwhile, despite much of the early summer transfer talk focusing on the signing of an experienced goalkeeper to provide competition and cover for the Polish duo of Wojciech Szczesny and Lukasz Fabianski, Wenger has made no such capture. The long-serving Arsenal boss says he remains confident in Szczesny's ability to handle the pressure of the Premier League.
"He is over the problems he had last season. He had a dip in form, but has come back at the end of the season with good form and a good run, overall for me he is back to his best. We forget he is a boy who is only in his third season in the Premier League. He is only 23, for a goalkeeper that is very young," Wenger told www.arsenal.com
"He was third then last season fourth in the Premier League, for such a young goalkeeper, that is not a bad achievement. I am sure you will see a great season from Szczesny, and I rate Fabianski very highly, which is why I think we have two very good goalkeepers," he concluded.