Both Robin van Persie and Manuel Almunia have been connected to Arsenal exits by numerous news outlets today, with the club preparing for yet another busy summer as the transfer window draws near.
Van Persie is entering into the last 12 months of his contract with the Gunners, and after scoring 34 goals so far this season for the side, the striker is hot property for teams in Spain and Italy, as well as Manchester City.
But the Daily Mirror is claiming today that van Persie's agent is talking to Juventus about a possible deal, with the Serie A side looking to improve their fire power as they look forward to the prospect of playing in the Champions League next season.
Juventus are currently top of the Italian table, and look a big prospect for the European competition as they make their return. The decision over which club to join will no doubt have at least a part to do with whether van Persie believes that Arsenal will be capable of winning a trophy next season.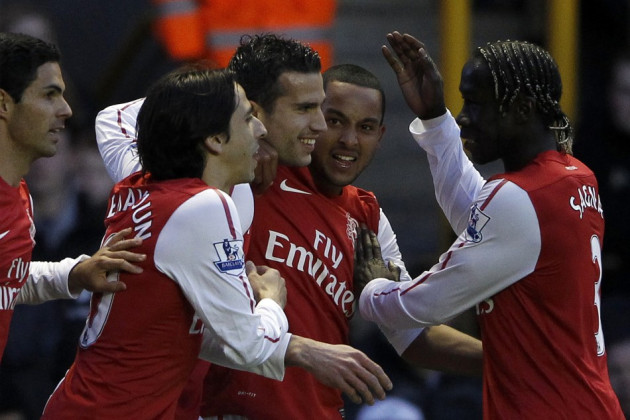 His loss would be a great one for the Arsenal squad, and could deal the side an even bigger blow than when Cesc Fabregas and Samir Nasri left last summer. The skipper has been an integral part in many of the club's victories this season, and the Gunners owe a great deal of why they moved from their worst start in over 50 years to a top four placing to the Dutchman.
Van Persie has insisted that until the season ends, he won't discuss a new deal with Arsenal, and if the Mirror's reports are true that his agent is talking to other clubs, the 28 year old may just be investigating his worth before sitting down with Arsene Wenger to talk.
Meanwhile, Manuel Almunia has admitted that he wants a move away from the club as well, with the 34 year old keeper falling well behind Wojciech Szczesny and Lukasz Fabianski in the keeping department.
His contract runs out in the summer, and the Spaniard says that while he'd like to stay in London, he is ready for a change.
"I'm looking for a nice move next season," Almunia told Sky Sports. "I want to start a new episode of my life.
"It's a very respectful relationship and now I'm free, I can do what I like and he's happy with my work at Arsenal for ideas.
"I have got lazy to move too far, because life here in London is fantastic and I hope I can have a club to go to next season so I can stay."