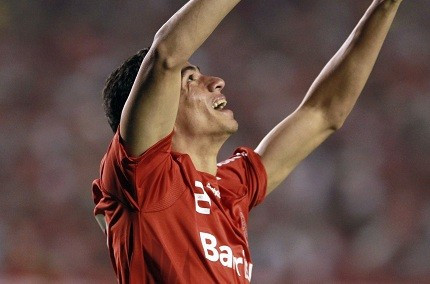 Arsenal and Tottenham have both made bids for Leandro Damiao, according to the Brazilian striker's agent.
Damaio has scored 17 goals in 13 matches so far this season for South Amercian side Internaciol, and has drawn the attentions of numerous European clubs as a result.
Arsenal are well known for taking on young players from overseas who show immense potential, and Arsene Wenger has reportedly sent scouts to watch Damaio on numerous occasions.
Tottenham, meanwhile, have been monitoring the starlet for some time, and with Rafael van der Vaart suffering injury problems, the side will be looking for support up front as the season moves into the business end.
Reports speculated that Spurs had made a £15 million move for Damiao in the summer, but the bid was turned down. And now, the player's representatives Sivori & Asociados claim that offers were made from both north London clubs as the summer transfer window unfolded.
"The big clubs wait to take a player like him, to be sure that a player does well, that he can prove himself," a representative spokesman said.
"In January Damiao would cost less than now, but was still considered a risk.
"Now Damiao has important requests. There is a good offer of Tottenham, one from Arsenal and even some Spanish clubs are sounding out Internacional."
The spokesman said that the offers from big clubs come as no surprise, though he was clear that Damiao will have trouble getting permission to play in Europe with his current passport situation.
"It's normal: he's a striker born in 1989, he attracts a lot interest. It should be considered, however, that he has the non-EU passport," he explained.
Transfer rivalries between Tottenham and Arsenal will be nothing new to the sides; last summer, after Scott Parker made the move to White Hart Lane, Harry Redknapp admitted he was relieved that the defensive midfielder didn't head to the Emirates instead. And Emmanuel Adebayor's loan move from Manchester City to Tottenham sparked controversy amongst Arsenal fans, with former-Gunners man Adebayor enduring a shaky relationship with the club already.
At 22 years old, Damiao has moved through the youth ranks at Internacional to become a regular in the senior squad. His first Brazil call-up came when Alexandre Pato pulled out injured before their tie with Scotland last March, and he scored for the national side when they played Ghana in a friendly in September.