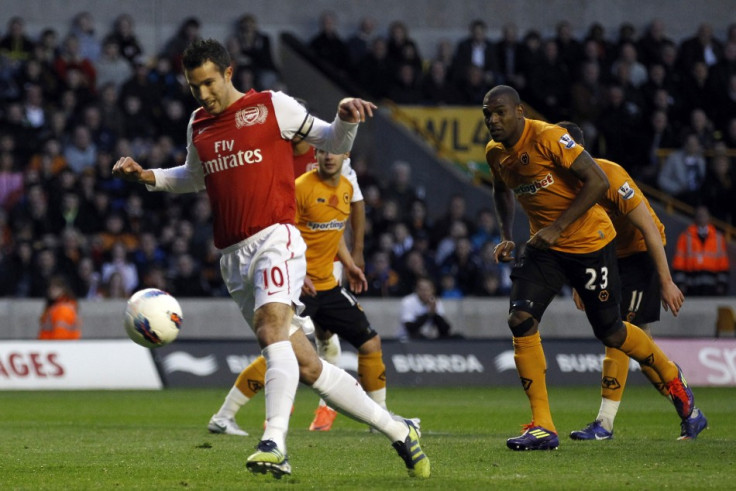 Robin van Persie's early penalty in Arsenal's 3-0 win at Wolves on Wednesday meant that this season the striker has scored against 17 different teams - a Premier League record. He will share the record with another Arsenal legend - Ian Wright - who registered goals against every team except Manchester United and Sunderland during the 1996/97 campaign.
The only two teams who prevented van Persie from scoring against them this season have been Fulham and Manchester City, although the striker came agonisingly close to scoring against Roberto Mancini's side when they visited the Emirates a few days ago - an early header was cleared off the line, accidentally, by teammate Thomas Vermaelen and a second half header struck the headwork. To make the heartache worse, he also had a goal disallowed for offside, in both games against City.
In any case, having already faced City and Fulham twice each this season, the Dutchman will not be able to surpass Wright's record. He did, however, score against Fulham on the final day of the last season and hence has effectively scored against 18 different Premier League teams in the past 12 months. Former England strikers Andy Cole and Alan Shearer also managed to score against 17 separate teams in a season but during that period the league comprised of 22 teams.
Interestingly, the only team van Persie has netted against both home and away this season is Manchester United, although he has had chances to add to that list in each of Arsenal's last five matches. Equally interestingly (perhaps not so much for Gunners fans) van Persie could make it 18 teams for the season - if he scores an own goal - although that will not help him break the record and, presumably, would not really help his side either.
With 27 Premier League goals this season, van Persie leads the race for the Golden Boot and is five strikes ahead of Manchester United's Wayne Rooney. Across all competitions, van Persie has 34 goals and 14 assists this season and is eight in Arsenal's list of all-time top scorers, with 129 goals from 273 appearances.
There is every chance that the prolific Dutchman will add to his season's tally when Arsenal host Wigan on Monday, as the London club continue their attempts to cement their third place in the table and gain automatic qualification for next season's Champions League.