Wenger Facing Ambition, Money and Winger Issues Over Van Persie
Arsene Wenger has entered talks with Robin van Persie, and the first signs don't look good
Arsenal have hit a crossroads with Robin van Persie over contract talks, according to multiple reports, with the club desperate to keep hold of their star striker as he enters the final 12 months of his deal.
The Gunners could have had a very different season if it weren't for van Persie's goalscoring heroics; the Holland international had a big hand in winning multiple games as the side went from their worst start in over 50 years to a respectable third-place finish.
And now that the celebrations over guaranteed Champions League football have died down, Arsenal are beginning the mammoth task of convincing van Persie that his long-term future should be at the Emirates.
And while Gunners fans wait with baited breath to see the outcome of the talks, media are today reporting that the first signs don't look good as van Persie pushes for a commitment to investing in the team to win trophies.
ESPN are reporting that Barcelona, Juventus and Manchester City are all circling the star, and should his talks fall through with Arsenal, van Persie knows that he will be in high demand elsewhere.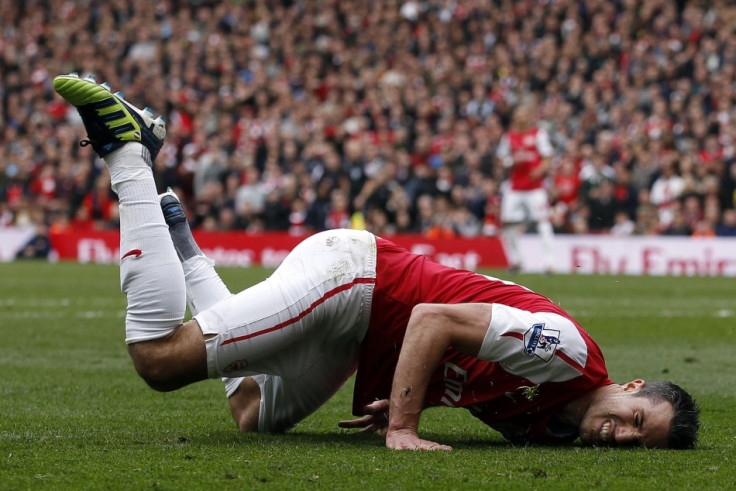 The outlet also reported that Wenger had been hoping the signing of Luka Podolski would convince van Persie that the side believes they can win trophies in the near future, but that so far hasn't been enough to show the star that he should stay in north London.
The Daily Mail also claims that Arsenal have gone so far as to promise that they will make significant steps to sign the likes of Yann M'Vila and Shinji Kagawa as well as Podolski early on in the summer transfer window.
Van Persie has often told of his love for Arsenal, but after losing the battle to win trophies on so many heartbreaking occasions, the 28 year old will no doubt be tempted by a possible move to a club that are currently in a winning streak.
Money will also likely be an issue, with City able to offer wages that Arsenal can't compare with, and the Daily Mirror believes that Juventus are in a position to give the hitman a contract worth £180,000 per week.
One side issue that hasn't been so widely reported is the extra pressure on Wenger to sign van Persie for the sake of also keeping Theo Walcott; the winger has said on many occasions that he wants to play up front alongside the skipper, and Walcott is entering into the final 12 months of his deal as well.
© Copyright IBTimes 2023. All rights reserved.