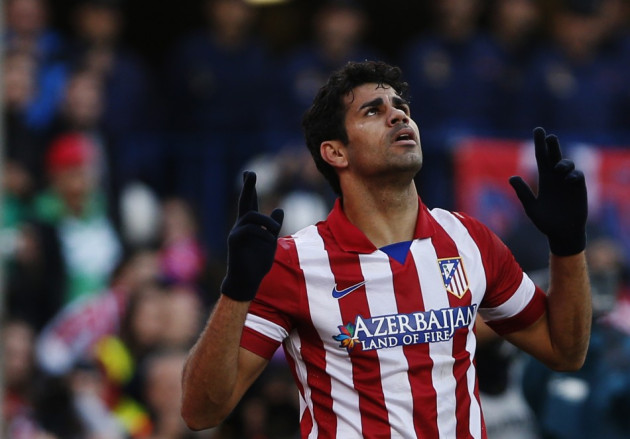 Arsenal manager Arsene Wenger has once again spoken of his admiration for Atletico Madrid striker Diego Costa who is currently the joint top scorer in Spain along with Real Madrid superstar Cristiano Ronaldo.
The Brazilian-born striker has been in excellent form this season both domestically and in the Champions League where he scored two goals in the recent 3-0 win over Austria Vienna.
Costa is set to win his first cap for Spain in the upcoming friendly against Gabon later this month and it seems his performances are being watched very closely by Wenger.
The long-serving Arsenal boss recently described Costa as an 'animal' after his impressive performance in the Champions League, and it seems Wenger has long been paying attention to his displays.
"He had already grabbed my attention last year through his determination, his strength to move forward," Wenger told Eurosport. "He also possesses technical quality and a cool head when carrying out his finishing touches.
"For a long time, he was loaned out because he couldn't find his place. But over the last two seasons he has really moved up a notch.
"The departure of [Radamel] Falcao has given him space. The team plays for him and we can see all the talent he possesses.
"There is something animal in his determination, in his hunger. You can feel that he is a player who, before arriving at a very high level, has fed his thirst and his hunger."
While Wenger has not spoken about his interest in signing the 25-year-old, Costa, who has 13 league goals in just 12 games, may well be on the north London club's radar come January.
The Gunners have limited options in attack with Olivier Giroud and Nicklas Bendtner the only senior options available, with young French striker Yaya Sanogo very much untested at the highest level.
With speculation over the future of Bendtner and Arsenal seemingly in contention for the Premier League title, Wenger may well need to bolster his options in January and Costa would certainly be an impressive signing.