Arsene Wenger has revealed the club are in advanced talks with Auxerre forward Yaya Sanogo in efforts to bring him to the Emirates Stadium.
The 20-year-old struck eight goals in seven games during the latter stages of the second tier of French football and has held talks with Arsenal after rejecting a new deal from the French side earlier in the season.
The Gunners boss confirmed the club's interest in the France U21 striker in a press conference this morning. When quizzed on the move, Wenger told reporters: "It is in advanced stages but it not done."
Sanogo is out of contract this summer, meaning the Gunners could tie up a move for the striker that wouldn't cost them a transfer fee, but may result in the Gunners' paying Auxerre compensation.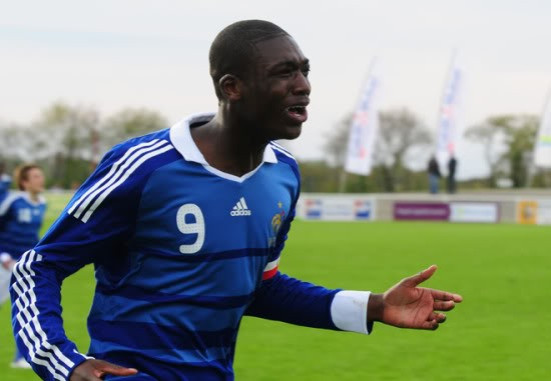 Details of the club's first piece of transfer business of the summer emerged ahead of the Gunners biggest game of the season against Newcastle United this Sunday.
The Gunners sit a point ahead of their north London rivals Tottenham Hotspur in fourth place and will seal their place in next season's Champions League should they match or better Spurs' result, who take on Sunderland at White Hart Lane.
With Arsenal holding the initiative, Wenger is hopeful of a positive finish. "I am convinced that my players will be rewarded because they have displayed the mental strength throughout the whole season," the Arsenal boss continued.
"It is down to mental strength of the players."
Arsenal's hold a slim advantage in the face fourth, knowing that a win over Alan Pardew's side will make Tottenham's exploits irrelevant.
"I had the feeling that it could go to the last day," Wenger added. "I know for a long time when we were seven points behind that we would all be happy that it goes to the last day.
"We are in a position nobody expected us to be in. We have our destiny in our hands, our fate in our hands and that's what you fight for in the game.
"It's a game that we now want to win but at least we fought back to be in a position where we are masters of our own fate."
But in their quest for a top four finish, Arsenal are likely to be without Mikel Arteta, who suffered a calf strain in the latter stages of the Gunners' 4-1 win over Wigan Athletic during the week. With the fitness of Jack Wilshere also uncertain, Wenger's midfield options have been severely narrowed.
"For the weekend, we have the uncertainty over Mikel Arteta, who had to come off just before the end of the Wigan game with a calf strain," Wenger said. "Honestly, his chances of being available are minimal. I have to be realistic and prepare for another solution.
"[Wilshere] is an option yes. We will monitor him until Sunday and I will make a decision very late over what I will do."