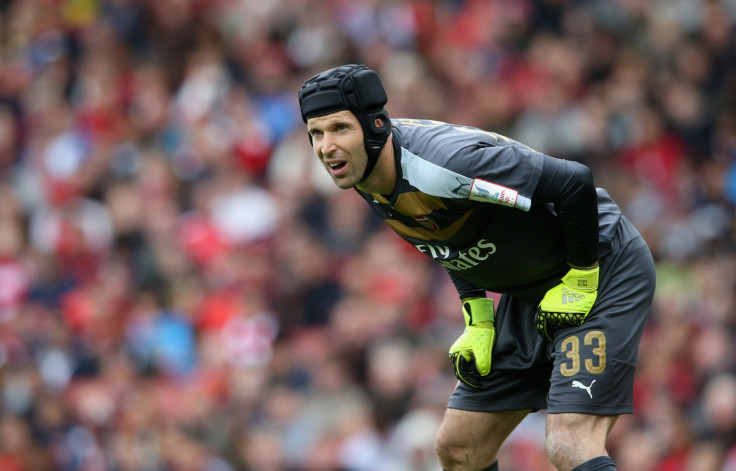 Arsenal goalkeeper Petr Cech has warned Chelsea that all he wants to do when he returns to Stamford Bridge on Saturday (19 September) is helping his new side secure a victory over his former team. The keeper, meanwhile, has praised the "special qualities" of his new trio teammates Santi Cazorla, Mesut Ozil and Per Mertesacker.
The former Chelsea legend will visit his former stadium for the first time since his decision to swap the blues for their London rivals in order to secure more playing time – after being usurped as the number one in west London by Thibaut Courtois last season. Cech, nevertheless, already knows how to beat Jose Mourinho's side after playing an important role in the Community Shield victory at Wembley earlier in the season – when Arsene Wenger beat Jose Mourinho for the first time in 14 attempts.
And Cech is ready to take advantage of Chelsea's poor start to the season to do it again on Saturday. "I have never played at Stamford Bridge in the visiting team so it will be a new experience for me. I go to a familiar place but most important for me will be to win the game. That's the way it goes," he said to the Arsenal poscast.
"In a way it is nice that I spent so much time there. That I know every corner of the stadium and the space, so for me there will be no surprises. Obviously it will be new to play against Chelsea but when you start playing the game the only concern you have is: 'Can I play my best game and can we win?'"
Cech spent 11 successful campaigns at west London where he won both the Premier League and the Champions League while being in the team with a number of big stars like Didier Drogba, Arjen Robben or Eden Hazard. But he said that he is also impressed by the quality he has found in his new side, and praises Cazorla, Ozil and Mertesacker.
"There are a number of players here that you play against and you know that the player has great technique, great passing, and so on. But then you train with them and you see them play, and you realise that some of them have really special qualities. If you see Santi playing in very tight places and always finding a solution, you just think: 'Wow, how does he do that?' because it's one thing you didn't know he could do," he added.
"People always speak about Mesut and the way he has great passing ability. He has but when you see him running, it's not only about his passing. He's a far more complete player than just his passing."
"You are aware of certain things when you play against players, but when you play with them you realise they are really important," he said. "When you play against Per, you know that he's tall and that if you go in the air you might not have a chance to get past him, but it's not only about his stature. He has fantastic reading of the game so he's in the right places for most of the time and that's why he's playing at this level. I could go on. We would spend an hour on this because you find out other things about everybody."