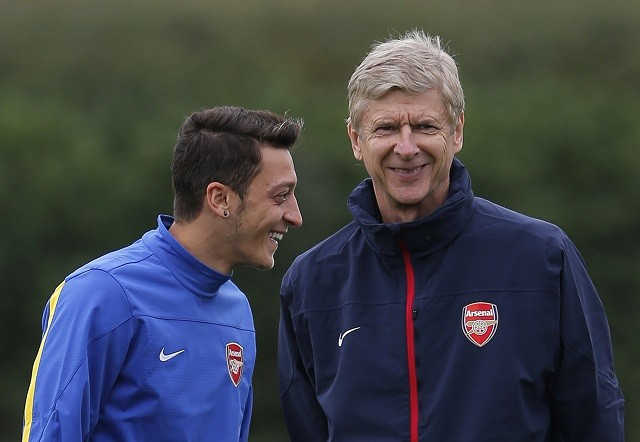 Arsenal's record signing Mesut Ozil has revealed that the Arsene Wenger philosophy was the key to him opting to move to London from Real Madrid in 2013. The German playmaker says that the French gaffer has managed a number of top players during his managerial career and always knows how to get the best out of them.
Ozil was Wenger's marquee signing of the 2013 window, sending Real £42m ($65m) to secure his services. Following years of austerity triggered by the move to the Emirates Staidum, this was the first sign of Wenger being prepared to break the bank to bring the Premier League title back to Arsenal.
Despite the Germany international having a few quiet spells since his arrival from the Santiago Bernabeu, he has helped the Gunners to back-to-back FA Cup wins in his first two campaigns. Ozil has publicly thanked Wenger for putting his trust in him, saying that he was the reason he moved to Arsenal in the first place.
"Before I joined, I knew that Arsenal were always a technically strong team," Ozil said to the club website. "That's why I decided to join this club, because I know exactly what the manager wants from the team. Our game centres around playing good technical football. It's thanks to the manager because he's worked on that for years and has formulated a technically gifted team that can dominate any opposition. That's why we're really pleased to have a manager like him."
The 26 year old has struggled with consistency while at the Emirates, but looks ready to have a solid season in his third campaign at the club. Having been deemed man of the match during the 2-0 victory over Stoke City, he is confident of keeping the run of form going.
"[Wenger] knows exactly how I tick and I know exactly what he thinks of me. I just want to help the team as much as possible on the pitch, that's my target," Ozil added. "Of course sometimes things work better than at other times, that's football, but the manager believes in me and that means a lot. He has experience and in past you've seen him develop some top players. I get on really well with him and he gives me his trust. I'm thankful to him for that and to be praised by a coach like him means a lot. I thank him for that through good performances on the pitch."