Arsenal manager Arsene Wenger, on the eve of Real Madrid's Champions League tie with Manchester United, says he believes Ligue 1 leaders Paris Saint Germain will bid for Portuguese winger Cristiano Ronaldo in the near future.
As Ronaldo prepares to take on old advisories United in the Champions League, Wenger thinks the 28 year old is on the radar of the big spenders from the French capital.
PSG owners, the Qatar Investment Authority, have invested heavily in the transfer market since purchasing the club in 2011, signing Javier Pastore, before last summer's splurge on Zlatan Ibrahimovic and Thiago Silva.
With the club looking to break new ground in Europe, having reached the knock-out phase of the Champions League also, their owners' ambition seemingly holds no bounds, and according to Arsenal boss Wenger, it could extend to moving for the 2013 Ballon d'Or runner-up.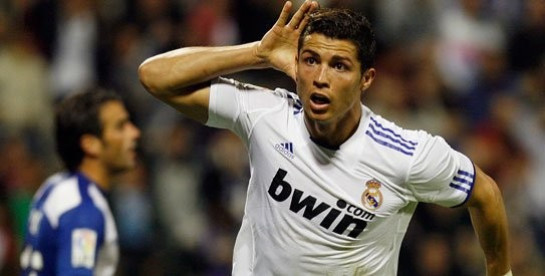 "You do not leave Real Madrid if Real Madrid do not want you to leave," the 63-year-old told Telefoot. "But I am sure of one thing. PSG would be in line for Cristiano Ronaldo."
Reports last year suggested PSG would be interested in bringing Wenger to the club should Carlo Ancelotti not claim the Ligue 1 title this season, with his contract at Arsenal having little over a season to run.
However, Wenger has maintained he plans to see out his current deal at Arsenal, which expires in 2014.
PSG president Sheikh Bin Abdulrahman Al-Thani revealed last December the French side had both Ronaldo and Madrid boss Jose Mourinho on their radar as the club hone in on becoming one of world's biggest clubs.
"Cristiano Ronaldo and Jose Mourinho are objectives for Paris Saint-Germain, of course," Al-Thani told Canal Football.
"PSG are one of the best clubs in the world. Ever since day one, our goal has been to win the Champions League. We are already one of the best teams in France, and it's our goal to become one of the best in Europe and the world, too."
Ibrahimovic, PSG's marque summer signing, has scored 21 goals in as many league game this season, and would welcome the addition of Mourinho and Ronaldo.
"It would be great news for any team to sign Mourinho and Ronaldo. Mourinho is a great coach, one of the best in the world, while Ronaldo is among the best players," he told Marca.
"However, fact is that it's just speculation at this point, and not the reality.
"People can always dream of signing them and speculate what could happen, but there is no point in saying anything else on it until something takes off."
After leaving United in 2009, Sir Alex Ferguson has been quoted claiming Ronaldo would be welcome back at Old Trafford.
And having netted his third hat-trick of the season in the 4-1 win over Sevilla, Madrid defender Sergio Ramos says upon renewing rivalries with United, Ronaldo will be in the form of his career.
"Cristiano is going through the best moment of his career and we are so lucky to have him at Real Madrid," Ramos said. "United is the most important game of our season. We shouldn't go crazy. We know it's going to be 180 minutes not just 90.
"It's true that over here it would be super-important to keep a clean sheet and try to maintain the offensive level we have. We have the players to create danger."