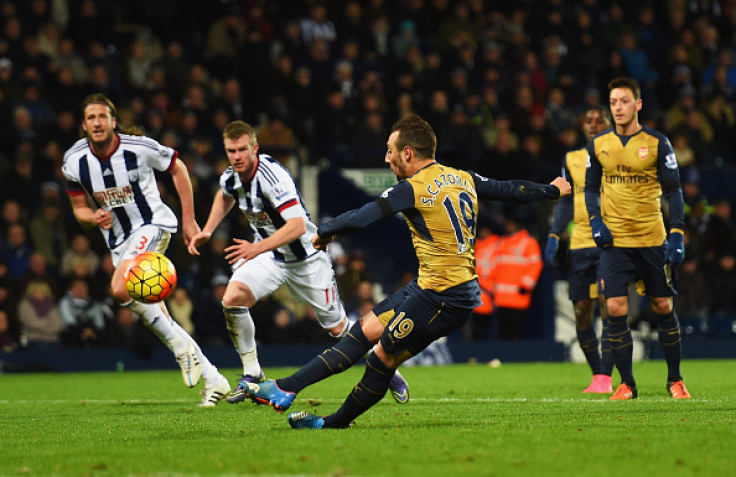 Arsene Wenger has refused to blame Santi Cazorla for Arsenal's shock defeat at the hands of West Bromwich Albion on Saturday, 21 November. The midfielder missed a penalty in the final quarter of the game, which otherwise would have salvaged a crucial point in the title race and taken them above Manchester City, who were handed a heavy defeat against Liverpool at the Etihad.
This was Cazorla's first penalty miss in seven attempts, having successfully guided the previous six into the net. The Spaniard missed his footing and hit his standing leg before making contact with the ball, which ballooned over the bar and into the stands.
"I have seen a few but I don't really know what happened. You can talk to him and he is so disappointed and it is difficult to blame Cazorla for that. We have to take it on the chin and bounce back in our next game. It is a big blow today for us as if the game reflects the result then okay but when you drop points when you have come out of a game and think you have not done the maximum to produce you cannot be happy," Wenger told Arsenal's official website.
It was a day when everything went against the north London club after they took the lead through Olivier Giroud. Mesut Ozil made his 11th assist of the campaign, floating in a delectable ball into the middle of the box that was slotted home by the Frenchman with consummate ease.
However, Mikel Arteta, who came on as replacement for Francis Coquelin after the 24-year-old had to go off injured, gave away a foul which led to West Brom's equaliser and scored the own goal which sealed the three points for the Baggies. The Gunners also hit the post and squandered gilt edged chances to draw level, as they dropped back to fourth after Manchester United and Leicester City won their respective games.