Arsenal boss Arsene Wenger has weighed in on the debate regarding the new Chelsea manager, suggesting that Jose Mourinho should return to Stamford Bridge this summer to replace Rafa Benitez.
Benitez confirmed earlier this season that he expects his interim spell at the Blues to be brought to an end in the summer, with the likes of Manuel Pellegrini and Gianfranco Zola among the names mentioned for the imminently vacant position in west London.
But Wenger, who joined Arsenal in 1996, believes Mourinho - a two-time Premier League winner during his three-and-a-half year spell at Chelsea in 2004-2007 - is the ideal candidate to take over.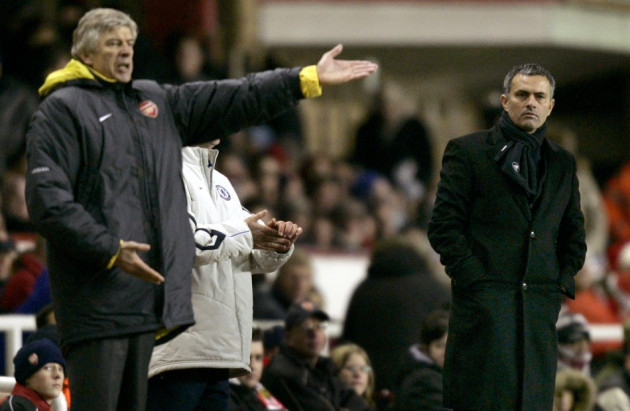 "I think Chelsea currently have a great coach in Rafa Benitez, but if they part ways at the end of season, of course Jose Mourinho would be a good solution for Chelsea," Wenger told Eurosport.
"Mourinho is one of the best in the world. But I consider Benitez to be doing a good job at Stamford Bridge.
"Honestly, I'm not really well informed about the possibility of Mourinho returning to Chelsea. Usually, I'm not a big fan of these kind of rumours, but that's what we get used to reading in the newspapers.
"I'm afraid of what Chelsea can do in the summer. We have to be prepared for them to be one of the biggest movers in terms of investment once the window opens.
"Even though they already have a great base to their squad, notably their young players such as Oscar, Juan Mata, Ramires and Eden Hazard, I think they will be busy during the transfer window.
"We've heard a lot of talk about Atletico Madrid striker Radamel Falcao. Some people say it's already a done deal, but I've heard nothing."
Arsenal fans will be hoping that Wenger's prophecy for Chelsea can become a reality for the north Londoners also, with the gap from the Gunners to the Premier League summit set to extend once again, while their wait for a major trophy also continues.
Wenger's side finished 19 points behind Manchester City last season, and ahead of the visit of newly crowned champions Manchester United, trail the title winners by 21 points with four games still to play.