Australia captain Michael Clarke remains confident his side can stem their six-match losing streak and clinch victory in the third Test of the Ashes at Old Trafford, after hosts England finished day two trailing by 475 runs.
The visitors, riding on Clarke's brilliant 187, posted a first innings total of 527/7 and declared soon after tea. England, who are leading the five-match series 2-0, ended the day at 52/2 as Peter Siddle dismissed both Joe Root & Tim Bresnan late on. The Australia skipper was pleased with his men's efforts so far and is now planning to mastermind a win.
"All the boys should be really proud to make over 500 and then come back out in the field and get some early wickets. How good was my innings? Ask me in three more days. If we win then it's a good innings. If not it's a waste of time. It is always nice to make a big hundred but we've got three more tough days to go," Clarke pointed out.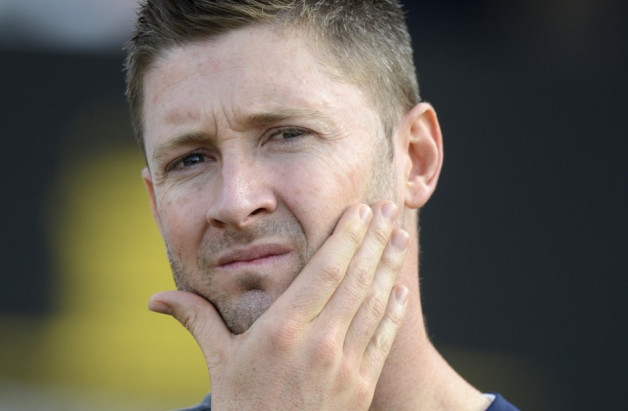 "The ball is a lot softer so it will be tougher to get traditional wickets of three slips and a gully. It will be more shorter cover, lbw, bowled. Hopefully Nathan Lyon can continue to bowl like he did this evening because he bowled extremely well. I probably would have liked to declare before tea but I thought the extra 20 runs might come in handy in the second innings," the captain added.
Former England batsman Geoffrey Boycott admitted Australia have played well so far and have the edge. He also urged captain Alastair Cook and wicketkeeper Matt Prior to be among the runs tomorrow and also said the team should not be too dependent on the in-form Ian Bell every time.
"Australia will be cock-a-hoop tonight, they've got two wickets, and even if they [England] bat all day tomorrow, they'll still be 200 behind. Cook needs to stay in and have a long innings, time in the middle and make a score, as he's not made an impact in the series. Prior needs the same, he's had some low scores since he was named as England's player of the year. We can't wait for Bell to get us out of trouble every time, that's not going to happen," Boycott stressed.