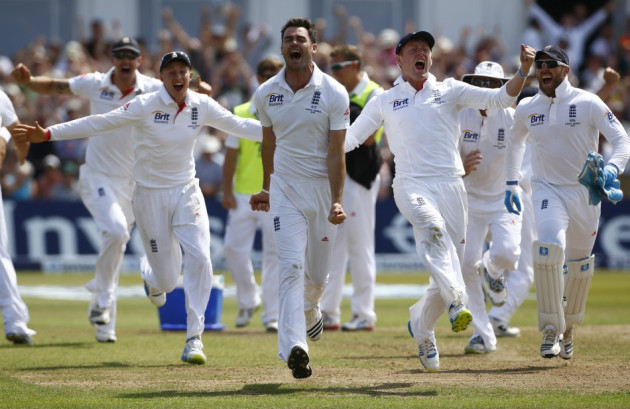 After the monotony of 2009 and the one-sided nature of 2010/11, the Ashes returned to its highlight reel guise during the first Test of the 2013 series at Trent Bridge, where England and Australia played out a match for the ages which comprised all the controversy and delight of an entire series across five sumptuous days.
A bit like only reading the synopsis for War and Peace, the highlights provide a fleeting background to the most detailed of page turners; an inadequate abridgement rather than a depth of knowledge.
Day One paved the way for nerves and mistakes yet excitement was regular. Just the 14 wickets fell for 290 runs, James Anderson's dismissal of Michael Clarke, a duel which will dominate the series you must think, the highlight of a day where spoils were shared.
Ashton Agar was handed the Baggy Green on debut by Glenn McGrath on Wednesday morning, but it wasn't until Thursday that Darren Lehmann's faith was truly rewarded. An infectiously brilliant innings of 98, which even had Englishmen pleading for a century, has written his name into modern-day Ashes folklore.
A shift in momentum could be seen and felt as Australia pressed 65 runs ahead and when controversy reared its timely head in the twilight of day two as umpire Aleem Dar, perhaps in the Nottingham heat, melted under the intense pressure of an Ashes series, the visitors' dominance increased.
First, Joe Root was given out despite failing to connect with another offering from Mitchell Starc's wayward collection of in-swingers, which was claimed by wicket-keeper Brad Haddin. The England opener failed to review the decision however, to somewhat ruin his case for being hard done by.
The 22-year-old's dismissal only inadvertently worked to create the first storm of the summer. After the dismissal had been built on hot spot in the event of a review, Jonathan Trott was LBW after a review the next ball as Starc adjusted his radar. The left-armer's success evokes memories of namesake Johnson, who four years bowled like Wasim Akram one minute and Alan Mullally the next.
Originally given not out, Australia were adamant they had their man. Hawk-eye indicated the ball was going on to hit middle stump, but hot spot provided no evidence of an edge. Despite a side-on view being unavailable, third umpire Marais Erasmus ordered the decision to be reversed. Both Dar and Trott were bemused as replays appeared to show an inside edge.
Incensed, England demanded explanations as to why the on-field decision was changed after the technology had failed. Apologies were made, but the International Cricket Council escape without providing a proper explanation and Erasmus will remain in some form for the next three Tests.
With England's potential match winners continuing to fall by the wayside, as Alastair Cook and Kevin Pietersen both fell early on day three, Ian Bell stepped up to the mantle with his finest international performance.
While cricket's uber Twenty20-era demands excitement, nothing can replicate playing to a situation and Bell fulfilled England's desires with an exceptionally paced century that straddled yet another controversial episode.
Stuart Broad's refusal to walk after clearly edging Agar to Clarke at first slip sparked outrage among the Australian team. Not with Broad, for that would have been contradictory of an Aussie team who will have been brought up on the ethos of not walking from the days of Bill Lawry, but with Dar once again.
Broad was then unfairly vilified by the English press. To criticise the all-rounder for standing his ground is to fail to grasp modern cricket's current guise; a wasted prayer. No matter how obvious any one dismissal may be, the call remains with the on-field umpire.
In an ideal world, should all players walk when they know they're out? Yes. Is Broad the first player to refuse to walk? No. Would any other player have done the same? Yes. Should he therefore be criticised for doing so? No.
Examples have been drawn with snooker or golf's self-regulation, but not walking does not conflict with the rules, more the much vaunted 'Spirit of Cricket' which precedes the rules of the game. The ICC's enforcement of these rules would be somewhat contradictory however, given their endorsement of the grotesque Indian Premier League.
As England lost three for five, Broad's 65 (27 of which came after the incident) proved crucial in setting Australia a record 311 to win at Trent Bridge. The loss of Shane Watson did nothing to stifle the tourists, who were comfortable at 111 for 1 and just 200 short of victory.
Ed Cowan survived a king pair but still fails to convince. An average of just over 30 at No.3 needs to be looked at. His dismissal to part-timer Root will frustrate and surely call into question his selection at Lord's. He helped Australia go six down by the close on day four, after Graeme Swann's belated contribution.
Steven Finn will surely also fail to reclaim his place after a lacklustre second innings where he bowled just 15 overs, and was dispatched for 37 without success - finishing with a two-over spell where he went for 24 and bowled Tim Bresnen into the second Test.
The final word of an absorbing opening act of the Ashes came from England's lead bowler Anderson, who took all four wickets on day five to complete his 10-wicket haul, including that of the mesmeric Haddin, who put his own slant on playing to a situation, with a spate of attacking shots. Again, the decision review system came into use, and didn't unequivocally convince.
The Lancastrian's 13-over spell was evidence of greater resilience, his imperious powers but also of England's overreliance. A bowler down in both innings due to Broad's iffy shoulder and Finn's ineptitude, Anderson carried the workload and you fancy that might be a theme of the series. When he breaks so might England's hopes of retaining the urn.
Without him, and namely reverse swing, England's much-heralded attack looks blunt while Australia produced a performance built on the mantra of Lehmann's ambitious, no fear-style and look like they'll be anything but victims of a series whitewash.
Nevertheless, England were forced into underperforming in the first Test and Australia will have been encouraged. Lord's will be the perfect backdrop to the most pivotal of Tests.