England lead the Ashes series 1-0 after defeating Australia by 14 runs in the first test match at Trent Bridge on Sunday. James Anderson was the star of the final day as he picked up four wickets from the day's play. He ended the match with 10-158 and claimed it to be his best performance of his career.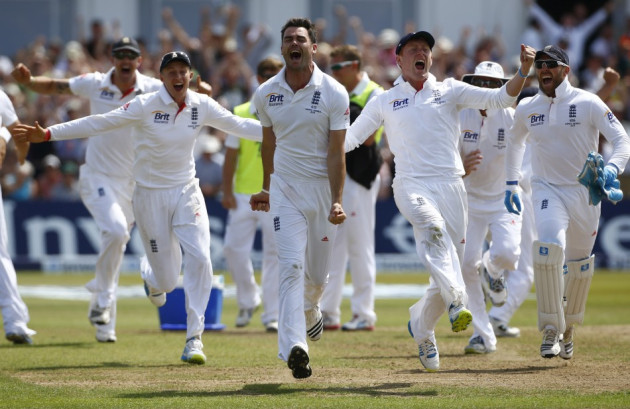 Australia needed 137 runs to win on the final day while England were four wickets away from taking the lead. Brad Haddin and Ashton Agar walked into the crease for the morning session. However, Michael Clarke's side lost three wickets in quick succession as they were 231-9.
The wicket-keeping batsman along with tail-ender James Pattinson put on 65 runs partnership. However, Haddin became Anderson's last victim and was given out with the help of the reviewing system.
"Yeah I'd say so [my best performance]. We knew it wasn't going to be easy at the start of the day, but I thought the lads stuck to it and stayed calm when it was getting tough. I'm just delighted to get the win," Anderson told Sky Sports.
"I had the nerves going a little bit but I love bowling here, it's been good to me over the years and I'm happy that I could pick up some more wickets," he added.
The English side decided to attack the visitors on the final day with their two striker bowlers, Anderson and Graeme Swann. The duo tried to put pressure on the Australia's lower order batsmen, with the pacer managing to pick up the final four wickets of the match.
Meanwhile, England skipper Alastair Cook has played down the notion that his side are over-reliant on Anderson.
"Jimmy was outstanding. He always wants one more over, though 13 was probably quite a lot in that first hour," Cook said.
"But no, I don't think we're over-reliant on him at all. He's a world-class bowler and you sometimes use him in these situations when you know there's a time-frame. He had an amazing rhythm in this game," he added.
"Stuart Broad and Steven Finn have done outstandingly well for us over a huge amount of time, but it just happened to be Jimmy's day and Jimmy's game. Sometimes it happens like that," England skipper concluded.