Joe Root has blamed The Oval pitch for England's slow scoring during the third day of the fifth Ashes Test. The hosts finished the day at 247/4, after continuing from the overnight score of 32/0. Australia declared at 492/9, with a massive 176 from Shane Watson and a maiden test century from Steven Smith.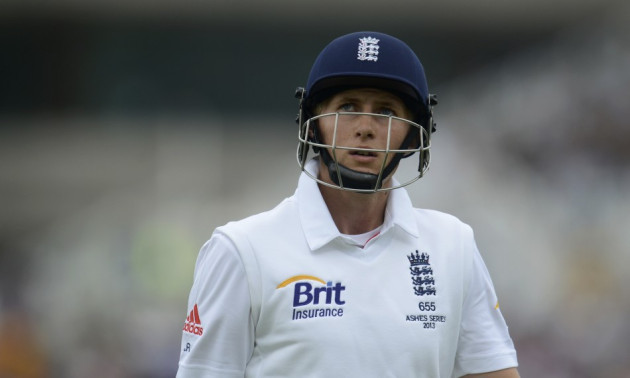 "We did play pretty well today. It's obviously quite a slow wicket and it's quite hard to score freely. We've got a lot of hard work tomorrow and we've got to work hard and earn every run out there," Root told Sky Sports.
"Give credit to Australia because they bowled pretty well out there. It is slow and hard to time out there, so you've got to be quite patient and we'll try and carry on tomorrow as we finished off tonight. I think it will turn. There's not a lot of grass on it as you can see, so we'll have to work hard for our runs," the England opener stressed.
Root made 68 before he was caught by Watson off spinner Nathan Lyon.
Despite the slow run rate though, England's batsmen ensured each made some contribution to their first innings total. Captain Alastair Cook made 25, Jonathan Trott made 40 and Kevin Pietersen hit his 32nd Test half-century. At close of play, centurion hero Ian Bell (29) and debutant Chris Woakes (15) were at the crease.
Meanwhile, Peter Siddle (0/46) remains optimistic the Australians can get a result from this match and record a first test win on this tour. He believes a few early wickets at the start of play on Day Four could turn the tide.
"We know tomorrow morning that if we can get on top quickly then we can still get them out for a low total. It was a bit slow and holding up. The short balls weren't getting up so it was hard work. We had to be patient and I don't think we built as much pressure on the batsmen as we'd have liked," Siddle explained.
"A lot of credit goes to us today for the way we bowled and the patience we showed. We stuck to it and hopefully we can get the rewards tomorrow morning," he added.
Unfortunately for him, London's gloomy weather may also have its say, with rain forecast for south London all day on Saturday. The most likely outcome of the fifth test is a draw.