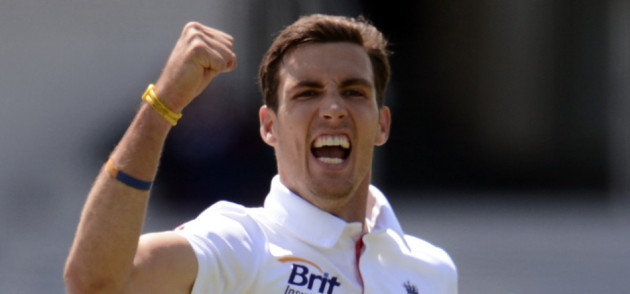 Strength and conditioning may have been temporarily removed from the England and Wales Cricket Board's vocabulary for the time being, but try telling Steven Finn the policy of physical preparation doesn't continue to haunt.
Despite undergoing the vaunted process mid-way through 2010 following his thrust into international Test cricket, Finn was withdrawn later that year, three matches through the Ashes series in Australia, due to fitness worries.
In his absence England won the final two tests in Melbourne and Sydney to claim a 3-1 series win, the first down under for 24 years. While Finn had contributed 14 wickets in the opening three matches, he missed the triumphant winning moment.
On the eve on the 2013 series, Finn's first at home against Australia, the Middlesex seamer promises things will be different as he seeks to settle unfinished business.
"To play in the first three games in the Ashes series and miss out on the last two was disappointing for me but I was a young man at the time," Finn told IBTimes UK.
"I was only 21 so as long as you learn from those experiences, granted there was pain when I was left out of that team for the last two games, so when I do get the chance to play in any game of this series hopefully I can make it count.
"I'm a lot more physically stronger and a lot more physically functional than I was then, which is important as a fast bowler," Finn asserted.
"It allows you to bowl longer spells at a higher pace and more consistently so that's one reason. I've experienced quite a lot in the last few years since I got left out of that team for the Melbourne Test match and hopefully I can draw on those experiences and use those in this Ashes series."
With Chris Tremlett still to regain full fitness, Finn faces competition from Tim Bresnan and Graeme Onions for selection as the third seamer for the first Test at Trent Bridge starting on Wednesday. The 24-year-old is crucially the man in possession of that role having begun the last five Tests.
Furthermore, his knowhow against county team-mate Chris Rogers, who is expected to open alongside Shane Watson, and his prowess at his home ground at Lord's - venue for the second test - where he averages 20.65, suggests he is the leading contender to spearhead England's attack alongside James Anderson, Stuart Broad and Graeme Swann.
Such is the relentless schedule for the remainder of 2013, Finn is assured of a look at the whites of Australian eyes at least once over the next six months. Five matches squeezed into six-and-a-half weeks are separated by just three months before England go in search of successive series wins in Australia for the first time in 80 years - four series wins on the bounce hasn't been achieved for two centuries.
"It is very unrealistic that any seamer will play all five Test matches or even all ten Test matches," Finn, ambassador for ESPN Classic's Ashes coverage, said. "At the moment our primary focus is these five Test matches in this English summer; we haven't even looked towards the Australian summer.
"It's very much important that we have a pool of fast bowler that are all capable of performing on the international stage. There are a number of us. I know if I don't play the first Test match, there is a chance that I will be playing at some point during the Ashes series so I need to remain ready.
"When you grow up, you grow up on a diet of Ashes cricket, the rivalry with Australia is huge and when there is a home Ashes series it sort of encapsulates the nation and gets everyone involved in it.
"When I was younger the Ashes was the pinnacle for me, along with my dreams of playing for England and I suppose playing in a home Ashes series would be right up there."
Still in the infancy of his international career, this summer represents Finn's first Ashes series on home soil, where intense media attention will be added to the pressure of expectation.
Michael Clarke's led Australia enter the series having replaced sacked coach Micky Arthur with Darren Lehmann and with the tag as one of the worst sides to ever tour England. Never has an Australian side been vilified since Alan Border's class of 1989, and with the old guard of Ponting, Gilchrist, McGrath and Warne representing mere distant memories, the likes of Sir Ian Botham are expecting emphatic England wins both home and down under.
Finn needs no explaining as to the significance of the task in hand - a far cry from his Ashes debut; an experience defined by youthful exuberance rather than historical appreciation.
"Back then I was quite naive in terms of the way I approached the series, it was just another series of cricket," Finn admits.
"I didn't realise the magnitude in terms of what was going on I don't think just because I was going out there, bowling the ball and enjoying my cricket.
"Since I've been able to look back at what we achieved down there the magnitude of the Ashes hits you.
"The Ashes in England, there is a lot made about it and a lot built up about it. It's important that I keep it as simple as I can in my head and stick to my methods that I use when I play and that will stand me in good stead.
"In a home series you're far more attached to what is going on but when you're in an away Ashes series you're playing on the other side of the world in a completely different time zone.
"You try not to read the newspapers, you don't read online stuff so you almost detach yourself from what people are saying but it's very hard to do that in England."
Should Finn and England add themselves to the pantheon of British sporting success in the summer of 2013, they face an even tougher task dissociating themselves from the media spotlight. They could leave the series their lives altered. But for Finn, he's already a changed man.
ESPN Classic will broadcast extensive Ashes programming every weeknight throughout July, celebrating one of the fiercest rivalries in international sport. Visit espnclassic.com for details.