England wicketkeeper Matt Prior claims he would have no issues with English and Australian umpires officiating in the Ashes, if it helps to reduce the number of on-field and DRS errors that have tainted this series.
Both teams have expressed frustration at several decisions throughout this series. The first Test at Nottingham saw several unfortunate calls from officials, while Cricket Australia asked for an explanation from the International Cricket Council (ICC) over the controversial dismissal of Usman Khawaja on the first day of this Test at Old Trafford.
The latest decision that has come under fire is an unsuccessful appeal against David Warner on the fourth day, after England were convinced his attempted pull shot took an edge before reaching Prior.
Umpire Tony Hill's original verdict of not out was upheld by the third umpire Kumar Dharmasena when HotSpot failed to pick up the edge, only for audio replays and Snickometer - a technology not available to officials in this series - to show contact with the bat.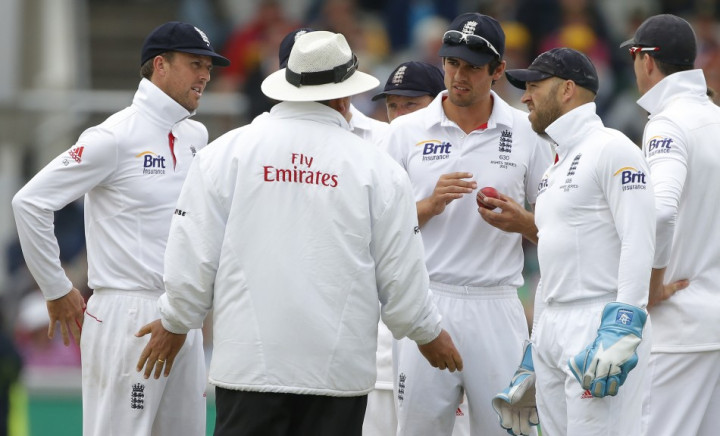 Prior stated players were becoming increasingly frustrated by recent umpiring errors. The English keeper remains a strong supporter of DRS but suggests the system needs remodelling and expressed his willingness to drop one of the main principles of a Test match: neutral umpires.
"I honestly don't care where the umpires come from as long as the right decision is made. The most important thing is that their decisions are correct. Any player - Aussie, English or anybody - all they want is the right outcome at the end of the day. There was disbelief because he hit it and that was why we referred it. And when you are that sure of it and it is still given not out that is quite frustrating," Prior said.
"At no point will you ever be critical of an umpire on the field for making the wrong decision because everyone makes mistakes. I am a big fan of DRS, I think it works and it is the way forward, but once you send it to the third umpire the decision that comes out has to be the correct decision. Whether the technology needs to be looked at, or how they use the technology, I don't know but I think that for the players at the moment it is the biggest frustration," the 31-year-old added.