Asmir Begovic, the Stoke City and Bosnia goalkeeper believes stricter penalties should be given to clubs guilty of racial abuse charges.
The comments follow a week in which the Serbian Football Association were charged by Uefa with racial abuse following their under-21 Euro 2013 playoff match against England.
Uefa have often reacted to race cases involving supporters with nominal action, the latest a £32,500 fine for Lazio after monkey chants were heard directed at Tottenham Hotspur players, and Begovic believes a harder punishment will act as a greater deterrent.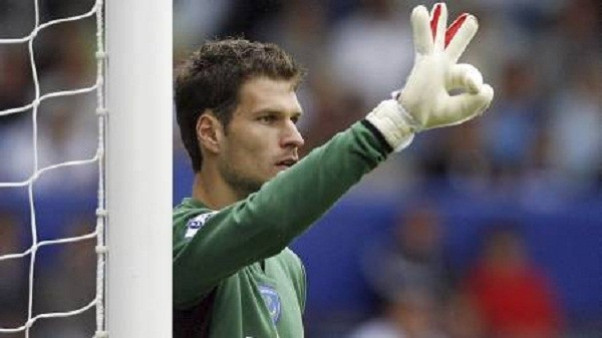 "Financial punishments are not as big a deal to most countries, certainly to bigger FAs," Begovic told BBC Sport.
"Maybe teams should have to forfeit games or lose points - which means everyone suffers - so people learn."
"The comments from the Serbian FA are a huge shame," added Begovic. "Hopefully the authorities will take the right actions to punish that kind of behaviour and the individuals will be disciplined."
"Here in England the situation is very good. There are not as many incidents as there may be in other countries but hopefully they can get rid of it all together.
"It is difficult to handle these situations because people in other countries may not be as educated about the racism issue as they are in this country and may not see it as such a foul thing as we do."
England under-21 midfielder Danny Rose was allegedly subject to monkey chants and has stone thrown at him during the international in Krusevac on Tuesday, which was followed by an on-pitch brawl involving both sets of players and officials.
Uefa's control and disciplinary body will meet on 22 November to discuss the charges which came prior to the governing body's 'United Against Racism' week, which will see captains from sides playing in European competition wear armbands commemorating the campaign.
Jason Roberts and Rio Ferdinand were among the players who refused to wear an anti-discrimination t-shirt, with the former claiming he felt let down by the Kick it Out campaign.
Sir Alex Ferguson has criticised the stance of both Roberts and Ferdinand for not uniting behind campaign, and claimed he would take action against his centre back having been promised all his players would wear t-shirts.