Assad claims footage of Syrian boy Omran Daqneesh pulled from Aleppo rubble was faked
Images of the five-year-old being rescued in rebel held Aleppo in August shocked the world.
Syrian President Bashar al-Assad has claimed footage captured of Omran Daqneesh, a five-year-old boy, being rescued from the Aleppo following air strikes was faked, dismissing the video as "manipulated".
Assad made the claims when he was confronted with a picture of the bloodied child by a Swiss journalist in a rare interview. Journalist Sandro Brotz from Swiss broadcaster SRF1 asked the Syrian leader if there was anything he wanted to say to Daqneesh's family, showing him the now iconic picture of the child sitting confused in the back of an ambulance.
"None of these incidents were true. You can have it manipulated and it is manipulated," Assad said. "This is a false picture, not a real one, we have real pictures of children being harmed, but this one specifically is a forged one," he added.
Footage of Daqneesh, whose family's home was bombed in pro-Assad airstrikes in August, was captured by the Syrian Civil Defence, also known as the White Helmets. The group pulled Daqneesh from the rubble of Aleppo's Qaterji district. The area had reportedly been hit by bombs from Russian warplanes. The images of the young child shocked the world.
Assad, who has unflinchingly maintained that he has being victimised by the West and is fighting a war against terrorists, claimed he had proof the Syrian Civil Defence had faked the rescue.
"I want you to go back after my interview and go to the Internet and see the same picture of the same child with his sister. Both were rescued by what they call them in the West, White Helmets.... They were rescued twice in different incidents, as part of publicity of those White Helmets," he said.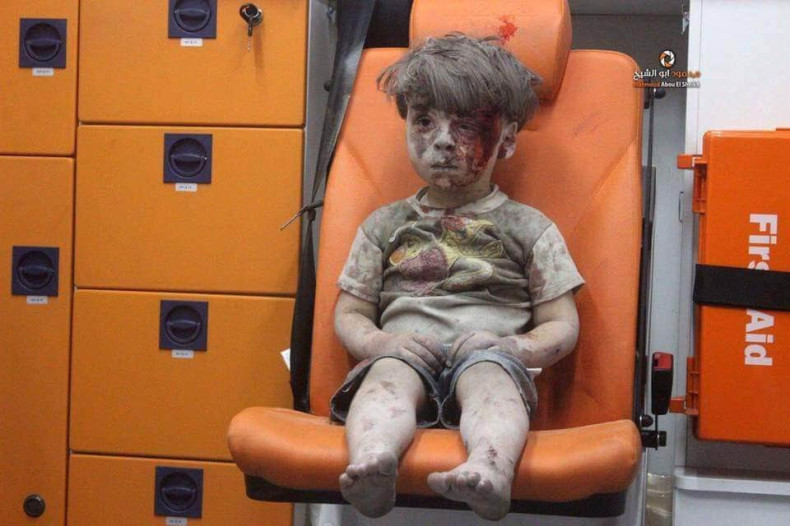 Syria and its principal backers Russia have said they will enforce a unilateral ceasefire in Aleppo to allow civilians safe passage from the city. According to Reuters, State media earlier said the army had opened exit corridors in two designated areas in the Bustan al-Qasr quarter and near the Castello road in northern Aleppo city, where waiting green buses were shown on state television.
Following a seven day ceasefire in Syria in September, Russian and Syrian warplanes pummelled rebel-held Aleppo killing hundreds every week and hitting civilians targets like hospitals and bakeries. Rebels in the city have said the unilateral ceasefire is part of a psychological campaign to get them to surrender.