Detainees inside Syrian prisons have described the inhumane treatment, torture and mass killings they experienced, with Amnesty International estimating 17,723 people have been killed in detention since the Syrian crisis began in March 2011.
The international human rights NGO has focused on the cases of 65 torture victims inside the Syrian intelligence agency's Saydnaya Prison, on the outskirts of Damascus.
Samer, a lawyer arrested near Hama, told Amnesty about the conditions he faced in the military installation. "They treated us like animals. They wanted people to be as inhuman as possible... I saw the blood, it was like a river... I never imagined humanity would reach such a low level... they would have had no problem killing us right there and then," he said.
The majority of survivors said the systematic abuse they faced started immediately after arrest, through transfer to detention centres. Arrival would involve a ritualised beating referred to as a "welcome party".
Later on, prisoners could be expected to undergo "security checks". During these ordeals women reported being subjected to rape and sexual assault by male guards.
Detainees, who often spend months or even years in the branches of the various intelligence agencies, would be regularly subjected to torture which included forcibly contorting the victim's body into a rubber tyre and flogging on the soles of the feet). Detainees would also face electric shocks, rape and sexual violence. Their fingernails or toenails were pulled out, and they could be scalded with hot water or burned with cigarettes.
Another prisoner, "Ziad", whose name has been changed to protect his identity, said ventilation in the branch of military intelligence prison he was being held in in Damascus stopped working one day and seven people died of suffocation.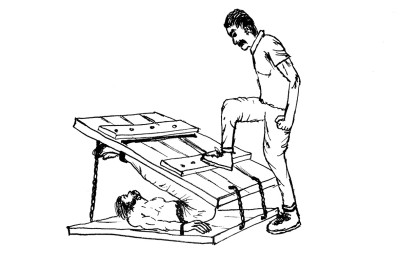 "They began to kick us to see who was alive and who wasn't. They told me and the other survivor to stand up... that is when I realised that... seven people had died, that I had slept next to seven bodies... [then] I saw the rest of the bodies in the corridor, around 25 other bodies."
Philip Luther, Director of Amnesty International's Middle East and North Africa Programme, said ahead of the report "It breaks the human': Torture, disease and death in Syria's prisons" that the international community must address the injustices as it seeks peace in Syria.
"The catalogue of horror stories featured in this report depicts in gruesome detail the dreadful abuse detainees routinely suffer from the moment of their arrest, through their interrogation and detention behind the closed doors of Syria's notorious intelligence facilities. This journey is often lethal, with detainees being at risk of death in custody at every stage," he said.
"For decades, Syrian government forces have used torture as a means to crush their opponents. Today, it is being carried out as part of a systematic and widespread attack directed against anyone suspected of opposing the government in the civilian population and amounts to crimes against humanity. Those responsible for these heinous crimes must be brought to justice," he added.