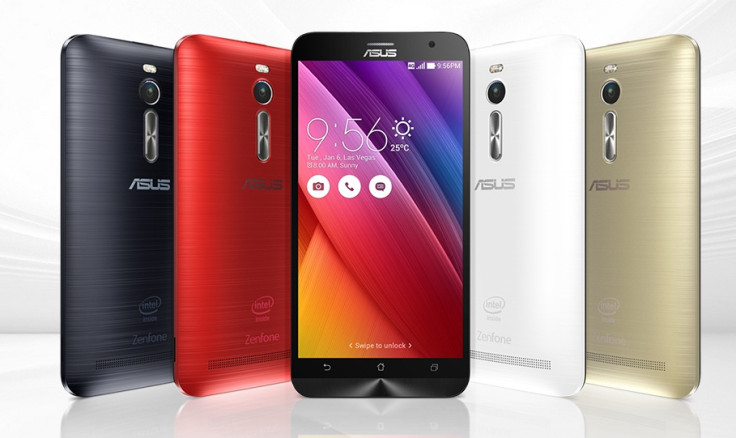 The Asus Zenfone 2, which was released recently, is designed to cater to both the mid-range and high-end segments as the handset incorporates technical specifications that more than justify its $219 (£147) price tag.
As it falls in both segments, the Zenfone 2 invariably draws comparisons with multiple phones, notably Motorola's Droid Turbo, which is touted as Motorola's answer to Samsung's Galaxy Note 4.
Here is a comparison of the Zenfone 2, bearing model number ZE551ML and the Droid Turbo.
Asus Zenfone 2 ZE551ML vs Motorola Droid Turbo
Display
The Asus Zenfone 2 ZE551ML incorporates a bigger 5.5in IPS display with capacitive touchscreen and is protected by the Gorilla Glass 3. This display has resolutions of 1080x1920 pixels; along with pixel density of approximately 403PPI.
On the other hand, the Motorola Droid Turbo features a 5.2in IPS Super Amoled display enclosed within Gorilla Glass 3. Here, the touchscreen has a resolution of 1440x2560 pixels with a density of approximately 565PPI.
Both the smartphones boast multitouch and 16 million colours.
Gauging the technical aspects of the display of both the smartphones, the Droid Turbo clearly trounces the Zenfone 2 as far as offering clear image rendering on-screen is concerned, with a superior resolution and higher pixel density.
Hardware
The Zenfone 2 is driven by a 2.3GHz quad-core Intel Atom processor that varies based on the RAM configuration (Zenfone 2 is available in both 2GB as well as 4GB RAM variants). The 2GB RAM edition incorporates a relatively inferior 1.8GHz quad-core Intel Atom processor, while the 4GB RAM variant runs on a 2.3GHz quad-core Intel Atom processor.
In contrast, the Droid Turbo is powered by a 2.7 GHz quad-core Qualcomm Snapdragon 805 with 3GB RAM on board.
From the processor-wise comparison it is clear that the winner in this segment is Motorola's Droid Turbo as it provides for fairly faster processing and instruction processing with its 2.7GHz processor in comparison to the Zenfone 2's 2.3 GHz processor (in its 4GB variant).
Memory
The Asus Zenfone 2 lets users choose between the 2GB and 4GB RAM variants, and comes in three internal storage editions viz 16GB, 32GB and 64GB variants. The internal storage on the 16GB and 32GB variants can be expanded up to 64GB with the help of an external MicroSD card slot.
Like the Zenfone 2, the Droid Turbo also lets buyers choose between multiple internal storage variants including 32GB and 64GB with 3GB RAM on board.
However, the Droid Turbo does not incorporate a MicroSD card slot, thus users cannot expand its storage.
The Zenfone 2 tops the Droid Turbo as it includes a provisions of using a MicroSD card.
Camera
Asus' Zenfone 2 features a 13MP rear camera that comes along with a dual-LED flash and supports geo-tagging of images. The camera supports shooting 1080p videos at 30 frames per second (FPS). The handset also features a 5MP front camera.
In contrast, Motorola's Droid Turbo features a 21MP rear camera that supports recording 2160p videos at 24FPS and 1080p videos at 30FPS. The handset also comes with a 2MP front camera that supports 1080p videos.
The primary cameras of both the handsets come with additional features like geo-tagging, touch focus; face detection, panorama and HDR.
It is clear that the Motorola Droid Turbo is the superior device with respect to a better camera and superior video recording capabilities.
Battery
Asus Zenfone 2 is powered with a non-removable 3,000 mAh Li-Po battery, whereas the Motorola Droid Turbo incorporates a comparatively superior 3,900 mAh Li-Po battery.
Software
Asus' Zenfone 2 runs the Android 5.0 (Lollipop) operating system out of the box with ZenUI on top, while the Droid Turbo runs Android 4.4.4 (KitKat) out of the box, but in the US, Verizon has started seeding Google's more recent Android 5.1 (Lollipop) OS update brings along all features of the older Lollipop.
Price and availability
Asus Zenfone 2 (ZE551ML) is currently available for purchase online in Europe for €349 (£254, $376), and in the US for $219. In India, a 32GB variant of Asus Zenfone 2 Z3551ML is available for Rs 19,000 (£192).
Motorola Droid Turbo can be purchased in the US for $500 (SIM-free variant) and for $100 on a two-year contract from Verizon and other leading wireless carriers in the country.
In India, the Motorola Droid Turbo is sold as Moto Turbo and is available for purchase for Rs 41,999.
Droid Turbo is yet to be made available in the UK.
The verdict: Motorola's Droid Turbo bests Asus Zenfone 2 (ZE551ML) in multiple key technical aspects and offers better value for money. But a budget-conscious buyer can opt for the Zenfone 2.