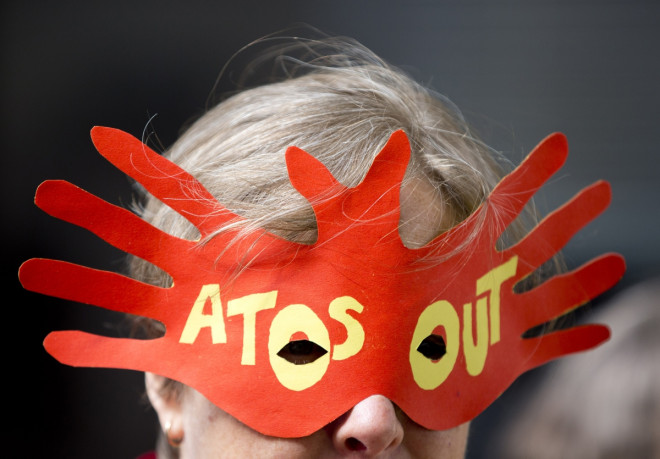 Atos is to quit carrying out controversial fit-to-work assessments on welfare claimants after widespread criticism.
The move brings down the curtain on Atos's spell in the spotlight enforcing government's welfare reforms, roundly condemned by disability campaigners
The controversial scheme's credibility was further damaged by cases of claimants told they were fit to work while in hospital or even dead.
Atos will not receive "a single penny of compensation" for the early closure of its contract with the government, vowed a minister.
However, disabled campaigners said there was a faint hope for a change in practices which have caused vulnerable people "stress and suffering."
Atos shall continue to assess claimnants for personal independence payments (PIP) as well in Northern Ireland.
The move follows research last year which found "significant quality failures" in the delivery of the assessments.
Disability minister Mike Penning said: "I am pleased to confirm that Atos will not receive a single penny of compensation from the taxpayer for the early termination of their contract.
"Quite the contrary, Atos has made a substantial financial settlement to the department."
It is understood the government will now rely on several providers to continue carrying out its welfare reforms.
Blogger Steven Sumpter writes about his experiences of the benefits system as someone suffering a range of debilitating conditions. He said Atos's withdrawal would have next to no impact on the reforms.
He told IBTimes UK: "I am glad to see Atos gone because they were responsible for causing suffering and pain. So people will be cheering, but I don't think anything will change. In practice. Atos will be replaced by another firm with the same premises and probably the same staff."
Sumpter collapsed at an Atos test centre after an absence of disabled parking spaces meant he had to walk across the car park, which was exhausting in his condition.
He called on the government to scrap the assessment scheme altogether in favour of testimonies from medical professionals treating claimants
Atos chief executive Ursula Morgenstern said: "We are pleased to have reached an agreement with the government to allow us to exit this contract early and we remain committed to delivering essential services to the UK government as a strategic supplier."
She said the company would "work hard to support transition to a new provider".
"We have supported and been flexible in implementing all the changes asked of us from the reviews of the work capability assessment process."