Attack at the Louvre: Police raids taking place in Paris as knifeman identified as Egyptian on tourist visa
The man was critically injured after attacking French soldiers with a machete at the museum.
Police are conducting several raids in Paris following a "terrorist" attack at the Louvre museum which left two soldiers injured and the assailant critically wounded.
French authorities have identified the knifeman as a 29-year-old Egyptian national in the country on a tourist visa.
French prosecutor Francois Molins said the attacker was Abdullah Reda Refaei al-Hamamy and is thought to have travelled to Paris from Dubai on 26 January this year. Egyptian identity papers were discovered in his possession, although al-Hamamy is believed to live in the United Arab Emirates.
Just hours after the terror attack at the world's busiest museum, French police raided one address on the Rue de Ponthieu, a street near the Champs-Elysees Avenue, amongst others, said police union official Luc Poignant.
It has been widely reported that the attacker shouted "Allahu Akbar" or "God is great" in Arabic as he launched the assault using a machete on Friday 3 February at around 10am. Police immediately sealed off the museum, leaving around 250 visitors inside.
The attacker was stopped at the entrance to the underground Carrousel du Louvre shopping mall, which lies underneath the museum, and was told that he could not bring his bags into the museum.
In response soldiers fired five bullets wounding the man in the stomach and the leg. The man was said to have been found with two backpacks, although neither contained any explosive materials.
Authorities said that the soldiers first tried suppress the knifeman without using firearms but Molins said the man was "a very determined assailant". The attacker remains in a "life-threatening" condition in a Paris hospital.
French President François Hollande said the incident was clearly an act of terrorism whilst speaking at an EU summit in Malta.
France has been under a state of emergency since November 2015 after the Paris Attacks which left 130 people dead. The Islamic State (Isis) claimed responsibility for the attack and French police will be examining if the assailant was under instruction by any terrorist group.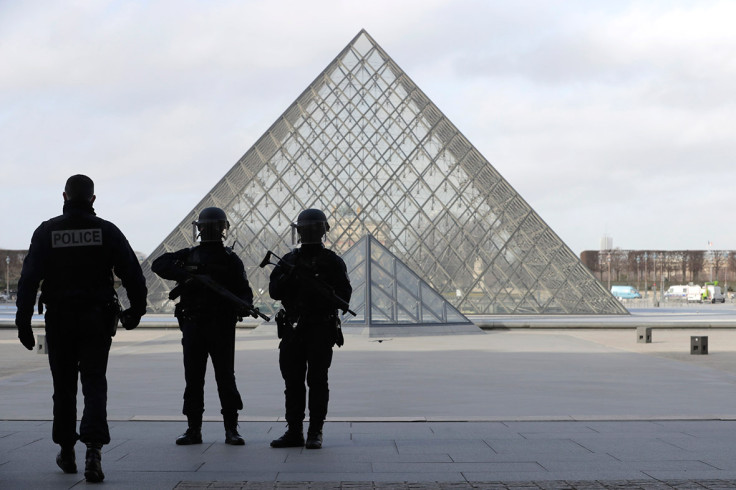 © Copyright IBTimes 2023. All rights reserved.