Mike (Adam DeVine) and Dave Stangle (Zac Efron) are the life of the party, whenever it comes to family gatherings – from birthdays and anniversaries to Fourth Of July shindigs on the beach. Unfortunately for the pair, their parents strongly disagree and in an attempt to keep them from wreaking havoc at their daughter Jeannie's upcoming wedding, they urge their two sons to find themselves dates to bring along.
Mr and Mrs Stangle aren't just going to be happy with any ol' girls though, they want two 'nice girls' to accompany their boys to the event in Hawaii, in the hopes that they'll have a calming influence. There's just one small problem, Mike and Dave don't know any such girls so, as you do, the pair take to the internet to advertise the opportunity.
Cue Tatiana (Aubrey Plaza) and Alice (Anna Kendrick), two self-confessed wild girls who spend their evenings waiting on tables, and on the next big adventure in their lives. So when they see Mike and Dave pleading their case on TV one day, they vow to get themselves on that all expenses-paid trip to Hawaii. Of course, their plan works... and soon the guys find themselves having to step-up as the sensible ones as Tatiana and Alice prove it's not Mike and Dave the Stangles need to worry about.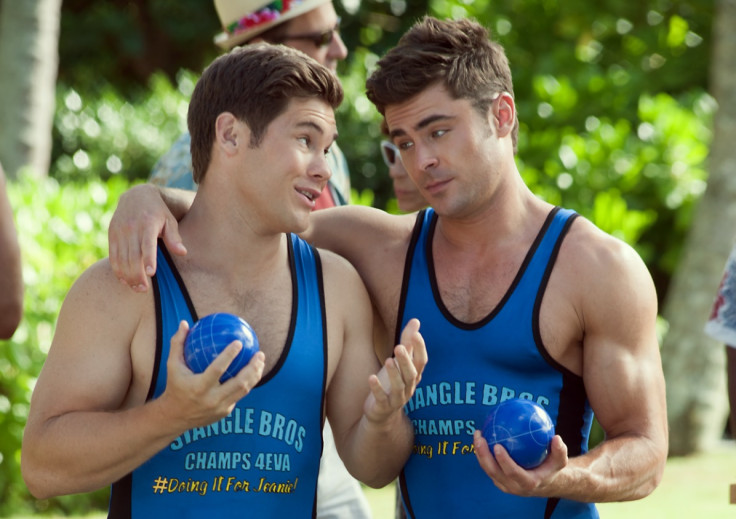 Our verdict
Mike And Dave Need Wedding Dates
Chances are, you know what to expect from a film starring Efron, DeVine, Plaza and Kendrick. From Pitch Perfect and Bad Neighbours to Dirty Grandpa, each have proved themselves comfortable in comedy, possessing their own unique approaches to the genre. Here, they make for a formidably funny foursome who all bring something different – and effective – to the table.
DeVine will please fans who like comedy loud and in their face; delivering a insanely physical performance that would give Jim Carrey and Jack Black a run for their money when it comes to facial contortion and high-pitch squeals while constantly shirtless Efron plays his humour a little more straight-laced. While they're both great, Plaza manages to better them both, shelving her trademark deadpan delivery here and instead present an in-control party animal dressed-up like an innocent school teacher. With characteristically devilish eyes she whispers sweet (?), sexual nothings in Mike's ear before rejecting his advances for the umpteenth time – it soon becomes clear that Tatiana isn't the one in control around here, Plaza is, and she owns it.
Kendrick is less believable in a 'bad girl' role but then, her character is a little more modest than Plaza's. Her craziness (and penchant for a drink or several) seems less inspired by her personality and more brought on by the fact that her ex left her at the altar just as they were about to tie the knot. She's also the one-half of the duo that actually develops feelings for the guy she's meant to be duping... essentially, Kendrick isn't pushed too far in the crude stakes and it works.
Sadly, Mike And Dave Need Wedding Dates' script doesn't quite match the talent of its four leads and much of it feels derivative of other comedies in the same genre – it literally even namedrops Wedding Crashers at one point. However, it does boast one refreshing aspect; its female characters are undoubtedly as crazy, if not more so, than their male counterparts and are allowed just as much opportunity to land a gag (and quite often beat them to it). Mike and Dave might need dates, but it's obvious to see that Efron and DeVine needed Plaza and Kendrick just as much.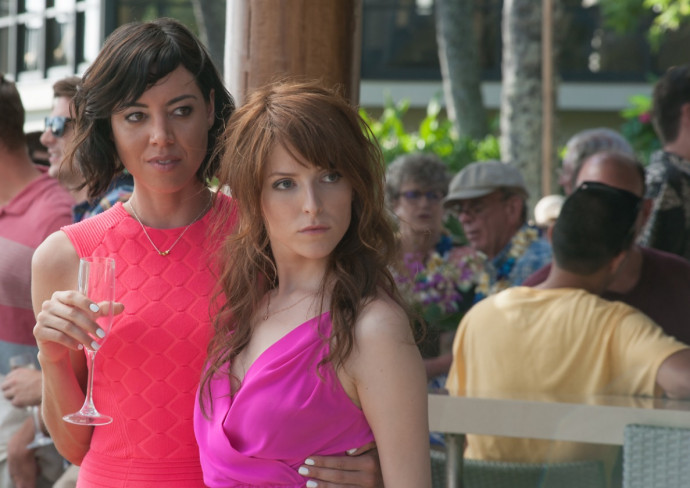 Given the plot, it's not surprising that Mike And Dave Need Wedding Dates is absent of a positive message but then again not all films, comedies in particular, need one. Awkwardly though, screenwriters Andrew J. Cohen and Brendan O'Brien seem keen on the idea, attempting to inject a thread of morality from time to time.
These moments often come in the form of Dave wanting to break free from his older brother's co-dependency (so he can "create his own graphic novel, while his mom covers his rent"), Alice's quest to finally get over her ex or Tatiana admitting that she struggles with believing herself capable enough to go for her goals. The effort to make us emotionally connect to these characters is admirable but it falls flat, resulting in many scenes being largely unnecessary and jarring to the otherwise 'laughs a minute' feel the movie had going for it.
While Cohen and O'Brien might slip up slightly there though, their inclusion of brilliant secondary characters such as Mike's cousin Terry – who loves to compete with him and has eyes for Tatiana – Jeannie's perpetually sulky Maid of Honour Becky and a masseuse who's more than happy to get his kit off for a wad of cash.
The film features the usual Comedy 101 scenes: hotel rooms trashed, people shrieking while flailing their limbs around, drug-taking slapstick, a woman getting receiving a horrible facial injury days before her wedding (cough cough, Meet The Parents) and someone engaging in a awkwardly hilarious sexual act.
However, while it may not seem entirely original, Mike And Dave Need Wedding Dates will make you laugh... a lot. There's only one condition, you will have to leave your maturity hat at home.