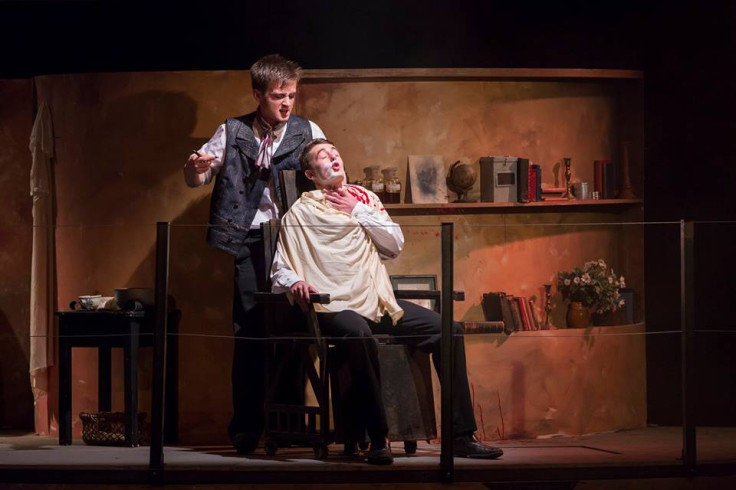 A high school performance of Sweeney Todd in Auckland, New Zealand went horribly wrong when the throat-slicing scene became a little too real. Two 16-year-old students had their throats sliced by a prop razor on the opening night.
The students of Saint Kentigern College were performing the musical on 6 April when the mishap took place, head teacher Steve Cole said. Speaking to radio station Newstalk ZB, he said the razor used on stage was real but that it had been bound in duct tape.
"It had been bound in cellophane, bound in all sorts of things," he said. Cole however said he had no idea what went wrong.
"It was very non-sharp, blunted, and had been through all sorts of health and safety checks. It was a very unfortunate mishap," he said. He however did concede that on hindsight, a plastic prop could have been used.
He however was satisfied that every precaution necessary was taken. "They haven't used that prop all the time, but the play has been rehearsed, doing scenes 40-50 times, and often with that prop, sometimes not, but the last six or seven dress rehearsals used that exact prop.
The two students were taken from the Pakuranga school grounds to the Auckland hospital. One was seriously injured while the other had moderate injuries, Radio NZ reported.
Both of them are now in stable condition and are said to be recovering. The school is now helping with police and WorkSafe in their investigations.
An audience at the show said that she did not realise that there had been an accident until after the show. "No announcements were made to the audience that the throat slitting was not all just fake blood. The show went on, we never knew anything about the real blood being spilt until later," she said.
The performance on 7 April has been postponed but Cole said that he hoped the season could be rescued, "obviously, without those particular props. I'm very, very hopeful that we will have a full production Friday, Saturday and maybe Sunday, a matinee." The performance was initially scheduled for 6 April to 9 April.
Ironically, on its Facebook page, the college wrote: "To some, the macabre, blood-soaked Sondheim classic, Sweeney Todd may seem an odd choice for a school musical, however, once brought to the Saint Kentigern stage, there is no doubting that this is a theatre piece that raised the bar and challenged our student actors, musicians and stage grew on many levels."
Sweeney Todd features a barber who slits his customers' throats with a razor and uses the bodies to make meat pies. A 2007 movie on Sweeney Todd features Johnny Depp, Helena Bonham Carter and Alan Rickman.
The school is scheduled to hold performances for Joseph and the Amazing Technicolor Dreamcoat from 25 May to 27 May and a Dance Showcase on 23 to 24 June.