Aung San Suu Kyi in her first UN address as leader defends Myanmar's efforts on Rohingya Muslims
Suu Kyi says the government is committed to a sustainable solution that will lead to peace.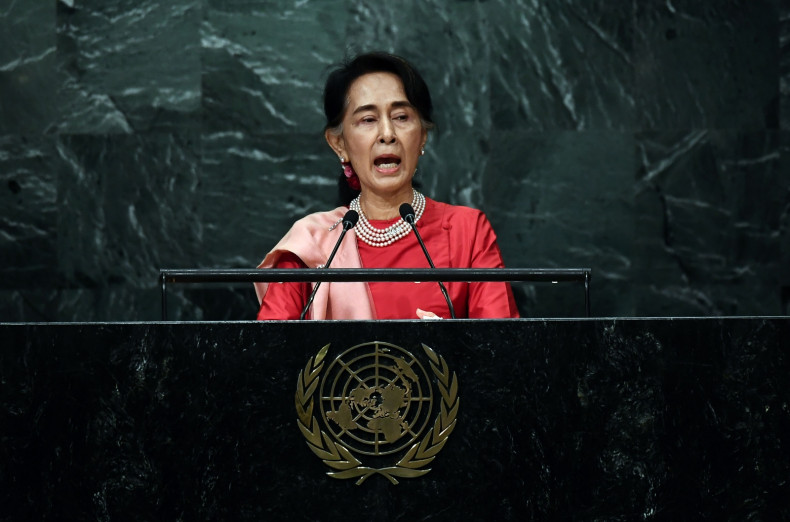 Daw Aung San Suu Kyi, the state counsellor and foreign minister of Myanmar, became the first leader from the Southeast Asian nation to address the UN General Assembly on Wednesday (21 September). Suu Kyi, a Nobel peace laureate, was under house arrest for several years by a military junta.
In her first speech as the representative of Myanmar's first civilian government in over 50 years she defended the country's efforts on Rohingya Muslims in Rakhine state.
Suu Kyi also said the strength and objectives that inspired the origin of the United Nations 70 years ago has enlightened Myanmar's new administration too, while mentioning her victory in November 2015 elections, which enabled her to form a democratically elected government after the country emerged from six decades of military rule.
"The strength of this Organization lies in its universality and legitimacy, anchored in the Charter and in the fundamental principles of international law. For all its imperfections and limitations, the United Nations remains a receptacle of our hopes for a more peaceful and prosperous world, a kinder, more compassionate home for all mankind," the State Counsellor said.
She added that Myanmar joined the UN as the newly independent Union of Burma in 1948 — the year in which the nation became an independent republic — an "era of determined hope, when the peoples of the world rose out of the ravages of war to build anew their countries and their faith in the human capacity for achieving peace with equality, prosperity with justice".
"Now, once again, it is a time of determined hope for Myanmar," the leader said.
Dismissing the criticism by some human rights activists for not doing anything for the Rohingya Muslims, who are living in poorly conditioned camps in Rakhine state after a communal conflict with a Buddhist sect, Suu Kyi said Myanmar did not fear global scrutiny.
"We are committed to a sustainable solution that will lead to peace, stability and development for all communities within the state. Our Government is taking a holistic approach that makes development central to both short and long term programmes aimed at promoting understanding and trust," she said.
The former political prisoner also turned towards the issue of terrorism in her address and stated that lack of social and economic security are probably important factors, "but we also need to consider the possibility that lack of purpose, of a sense of direction in life, could also be a force that drives many, especially the young into the snare of ideologies that appear to offer certainty".