Historic peace talks between Myanmar government and warring rebel groups kick off
Aung San Suu Kyi calls the five-day peace negotiations with ethnic groups a 'unique opportunity' to resolve conflicts.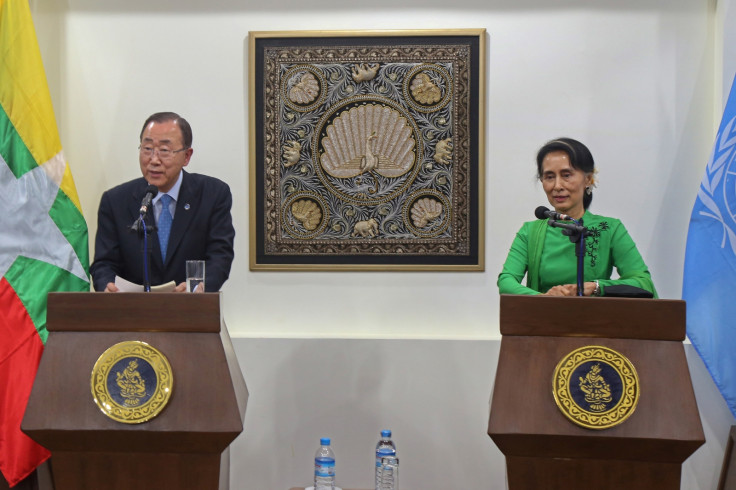 Landmark peace talks between the Myanmar government and warring rebel groups have kicked off in capital Naypyidaw in a bid to ease the decades-long bloodshed in the country. The five-day negotiations, led by Aung San Suu Kyi's administration, is also attended by UN Secretary-General Ban Ki-moon and army chief General Min Aung Hlaing.
As many as 17 of the 20 ethnic groups take part in the conference, aimed at resolving years-long armed conflicts troubling southeast Asia's poorest nation. Nonetheless, the country's 1.1 million Rohingya Muslims, who are viewed as illegal immigrants in the Buddhist-majority country, are not to be represented in the conference.
"This is a unique opportunity for us to accomplish a great task that will stand as a landmark throughout our history. Let us grasp this magnificent opportunity with wisdom, courage and perseverance and create a future infused with light," said the State Counsellor Suu Kyi, who literally spearheaded the historic power transition from the military junta to a democratically elected government, at the inauguration.
The talks, officially known as Union Peace Conference - 21st Century Panglong, have generated lofty expectations with Suu Kyi promising to bridge Myanmar's ethnic fault lines through the peace process. If there is a credible outcome from the summit, it could breathe much-needed fresh life into Myanmar's politics and economy. Myanmar, formerly Burma, is under the close watch of not just neighbouring India and China but also the Western world.
"The long civil war has cost numerous lives and robbed successive generations of their dignity, tranquility and normalcy. It is now clear that there can be no military solution to your differences. I urge you to accept that no party involved in this reconciliation process can expect to achieve all its aims. Conversely, every side must win something if the process is to succeed," the UN secretary general said ahead of the talks.
Tens of thousands of lives have been claimed by overlapping ethnic conflicts, which have been plaguing Myanmar ever since its independence from Britain in 1948. The latest talks are likened to the Panglong conference, held by Suu Kyi's father and Myanmar's national hero General Aung San, which took place 70 years ago to primarily discuss power-sharing arrangements among ethnic groups shortly after the independence. However, Myanmar quickly slipped into dictatorship after Aung San was assassinated before the agreements of the conference took effect.
© Copyright IBTimes 2023. All rights reserved.