Nobel Peace Prize laureate Aung San Suu Kyi left even her most ardent supporters shocked when she lost her composure after being challenged by BBC presenter Mishal Husain on the massacres of Muslims in Myanmar.
The Burmese politician was left ruffled as she was repeatedly asked by Husain to condemn anti-Islamic sentiment during an interview on the Today programme. "I think there are many, many Buddhists who have also left the country for various reasons," she replied after being pressed for an answer. "This is a result of our sufferings under a dictatorial regime."
She was later heard complaining off-air: "No one told me I was going to be interviewed by a Muslim."
The 70-year-old president of Myanmar's National League for Democracy Suu Kyi remained under house arrest for 15 years in her native Burma and is globally revered for her peaceful struggle for democracy. However her ambivalence to the violence suffered by Burma's Muslim minority has alarmed even her most dedicated fans.
Muslims comprise only 4 per cent of Burma's population and face widespread opposition from the country's Buddhist majority. Suu Kyi apparently did not want to alienate her supporters, but her response has raised questions about her lack of sympathy for the plight of the Muslim community.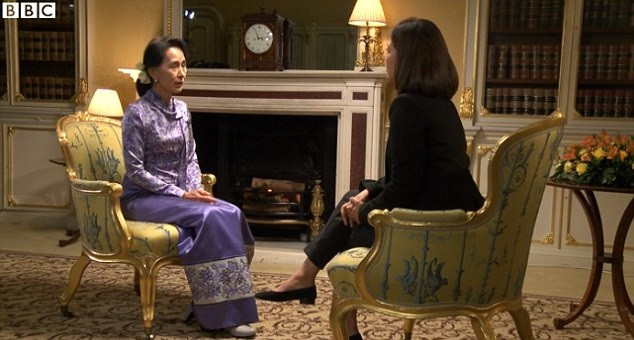 The clash was revealed in a new biography called "The Lady and the Generals: Aung San Suu Kyi and Burma's Struggle for Freedom", written by journalist Peter Popham.
"I thought it was worth including in the book because it just feeds into the ambiguity of her position regarding this issue," Popham said. "One has great admiration for her and her life story and courage, but nobody believes anymore that she is a person without any faults and without her own prejudices and limitations."
Husain, 43, was the first Muslim presenter of Radio 4's Today programme.