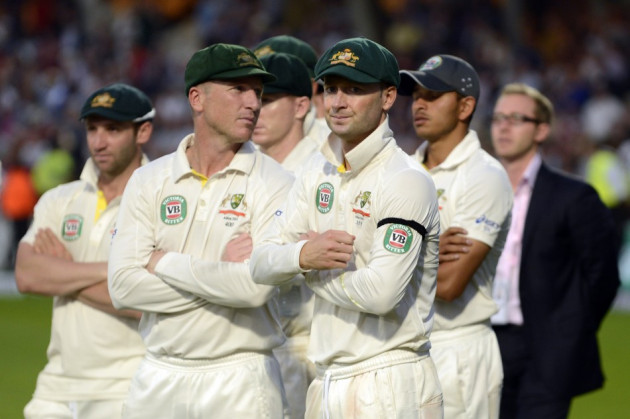 Chris Rogers - B+
Matches: 5 Batting Average: 40.77 Bowling Average: N/A
His second coming in international Test cricket saw the Middlesex man flourished under the Ashes gaze. His hundred at Durham, in a series full of controversy, was one of the everlasting memories. English conditions are second nature to him so his effectiveness on harder tracks will be interesting.
David Warner - B-
Matches: 3 Batting Average: 23.00 Bowling Average: N/A
After serving his post-Root ban and returning to form for Australia A, Warner sought to remind everyone he was a handy cricketer. Brutal against England's bowlers, notching a handy 71 at Durham before his wicket sparked defeat. A constant source of banter among the crowd, something he took with impeccable grace.
Shane Watson - C-
Matches: 5 Batting Average: 41.80 Bowling Average: 89.50
No player perhaps endured a more eventful series. Not so much an lbw candidate as an accident waiting to happen, Watson entered the record books for his front leg problems, while his DRS precision was no better. That was until he landed at the Oval where in his fourth different batting position he struck a career-best 176.
Ed Cowan - F
Matches: 1 Batting Average: 7.00 Bowling Average: N/A
If it hadn't been for Warner's pre-series antics we may never have seen Cowan. A hopelessly sub-standard cricketer at Test level who made 0 and 14 at Trent Bridge in Australia's trouble position of three. Lasted just one match and from then on Australia's performances improved.
Usman Khawaja - D-
Matches: 3 Batting Average: 19.00 Bowling Average: N/A
In between Cowan's ineptitude and Watson's brilliance, Khawaja was employed supposedly as the answer at three. Despite being the victim of some DRS errors, Khawaja provided more questions than solutions for Australia with one half-century from six innings. Not a sturdy top order batsman nor a natural stroke-player.
Phil Hughes - E

Matches: 2 Batting Average: 27.66 Bowling Average: N/A
Hughes' international experiment appears to finally be over, surely to the relief of those watching. Looked on the turn at Trent Bridge with an 81 but at Lord's, but with added responsibility, he was all at sea. Australia couldn't wait to make changes.
Michael Clarke - B+
Matches: 5 Batting Average: 47.62 Bowling Average: -
With the bat, Clarke needed no introduction as England's number one scalp of the Australian line-up. He got a cracker from Anderson at Trent Bridge and another jaffer from Broad at Durham. In between, he was a class apart and led from the front at Old Trafford with an exceptional hundred. As a captain he remains as inventive as ever and should be praised for setting up a game in the fifth test.
Steve Smith - B-
Matches: 5 Batting Average: 38.33 Bowling Average: N/A
Emerging from the shadows of a sub-standard all-rounder, Smith grew into an exceptional batsman at number six. Susceptible when required to defend but exceptional when on the attack. Made up for throwing away a century at Durham with one at the Oval - his maiden hundred.
Brad Haddin - C+
Matches: 5 Batting Average: 22.88 Bowling Average: N/A
Forced to retreat into his shell with the bat and produced just two scores of note; at Trent Bridge and Old Trafford with a strike rate of below 50 a sign of the restrictions the top order put upon him. With the gloves, he broke the Test record in taking 29 dismissals in the series and was a rock behind the stumps for the tourists.
Ashton Agar - C-
Matches: 2 Batting Average: 32.50 Bowling Average: 124.00
Central to one of the great Ashes narratives as the 19 year old was plucked from the Home Counties Premier League and handed his Test debut at Trent Bridge. Along with Hughes he helped break the Test record for the highest partnership for the 10th wicket on his way to making 98. Ineffective with the ball however and after being found out with the bat his place was untenable.
James Faulkner - C
Matches: 1 Batting Average: 22.50 Bowling Average: 16.33
The much-raved about one-day specialist contributed to denying England victory on the fifth day at the Oval with some impressive leg-side bowling to tuck up Jonathan Trott; and it's no surprise that was when he entered his element. Match figures of 6 for 104 mask troubles with the ball while again his prowess with the bat came as Australia pilled on quick runs.
Mitchell Starc - C-
Matches: 3 Batting Average: 26.00 Bowling Average: 32.45
Starc wasn't allowed to discover any sort of rhythm after failing to play two successive Tests on the tour. The 23 year old is a devilish in swinger at his best, but is often ineffective amid troubling conditions. Requires his own country to believe in him before he can believe in himself.
Jackson Bird - D
Matches: 1 Batting Average: - Bowling Average: 62.50
Took the prized wicket of Cook on the first day at Durham but thereafter lacked in contribution and quality. One further scalp came in the form of Swann and Nathan Lyon was quickly recalled. Behind Agar in the pecking order it would now seem.
Peter Siddle - B
Matches: 5 Batting Average: 10.50 Bowling Average: 31.58
Had England in all sorts of problems on day one at Trent Bridge with 5 for 50 in the first innings and while his varied line and position on the crease created trouble for the England openers, his success waned as the series progressed; just two wickets came in the last five innings. A decent time waster with the bat.
James Pattinson - C
Matches: 2 Batting Average: 36.00 Bowling Average: 43.85
Made a mockery of his status as solely a front-line bowler with brilliant batting displays in the first two Tests. Played second fiddle to Siddle and then Harris with the ball, and by Lord's the back injury which eventually ended his tour was showing signs of affecting his form.
Ryan Harris - A
Matches: 4 Batting Average: 19.80 Bowling Average: 19.58
Unquestionably the best bowler from either side. Despite missing the first Test, Harris took 24 wickets at 19.80 and had England in a myriad a problems with his consistent length and variation. Fitness problems seemingly behind him, should he reel off five matches in the winter the Ashes may return to Australian hands.
Nathan Lyon - B-
Matches: 3 Batting Average: 6.00 Bowling Average: 33.66
Belatedly called into the team after two Tests and provided evidence he can be the long-term spin option for Darren Lehmann. Took four wickets on the first afternoon in Durham and three more in the second innings as England set a target of 299, with Kevin Pietersen a scalp on both occasions. Form wasn't as apparent at the Oval but his place is secured for the winter.