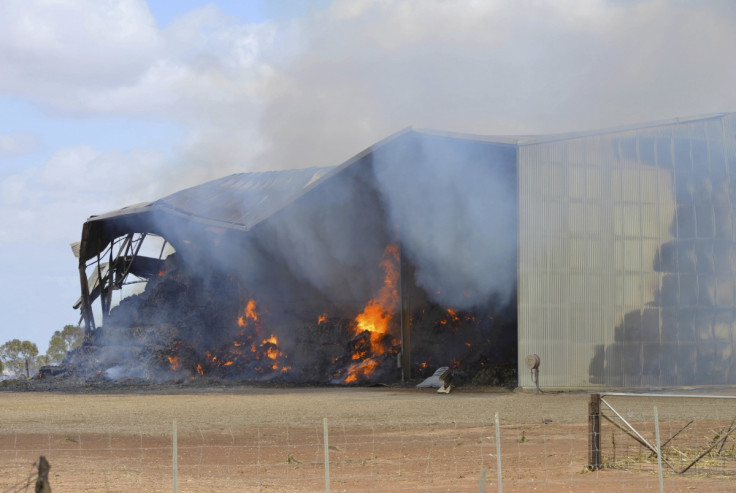 A bushfire that raged through South Australia on 25 November has killed two people and left 16 others injured. Firefighters were still struggling to get the blaze north of the capital city of Adelaide under control on 26 November as survivors spoke of their horrific experiences.
One of those killed was identified as 69-year-old farmer and local church secretary Allan Tiller, while a second victim is thought to be a 56-year-old woman who was trapped in a car, the Guardian reported. One survivor spoke of the sky darkening with ash as the fire raged around.
At a press conference, South Australian Premier Joe Weatherill said that there could be more deaths as the fire continued to spread. "Sadly, I can confirm two deaths so far, with unconfirmed reports of a third," he said.
The Australian Broadcasting Corporation (ABC) said that the fire was being fanned by strong winds and spread quickly. Country Fire Service chief officer Greg Nettleton and his crew were unable to position themselves appropriately to fight the flames, it reported. The 200 firefighters from Wednesday were joined by an additional 300 from Victoria today. A water-bombing aircraft and two large capacity planes were also called in from New South Wales.
The Country Fire Service sent out periodic messages to the public warning them about the extent of the fire and recommended security measures. "The Pinery Fire in the state's mid north remains a going fire with sporadic fire activity across the entire fire-ground. Fire activity remains around many townships including Owen, Hamley Bridge, Tarlee, Freeling, Wasleys, Kapunda, Greenock and surrounding areas," CFS said through its Watch and Act message.
Most of the area affected by the fire was agricultural and farm land. Speaking to ABC radio, Mallala farmer John Lush said:, "At the height of the fire, you couldn't see anything. You couldn't see the bullbar on the end of the ute." Lush lost 2,800ha of wheat along with farm machinery while his son lost his nearby home.
Last week a bushfire sparked by lightning in Western Australia took the lives of four people: Scaddan farmer Kym Curnow, 45, Norwegian national Anna Winther, 29, Tom Butcher, 31 from the UK, and German woman Julia Kohrs-Lichte, 19.