Australia Bushfires Add New Colour to Temperature Charts [video]
Fresh fires in Canberra, NSW, and Tasmania as temperature soars to record levels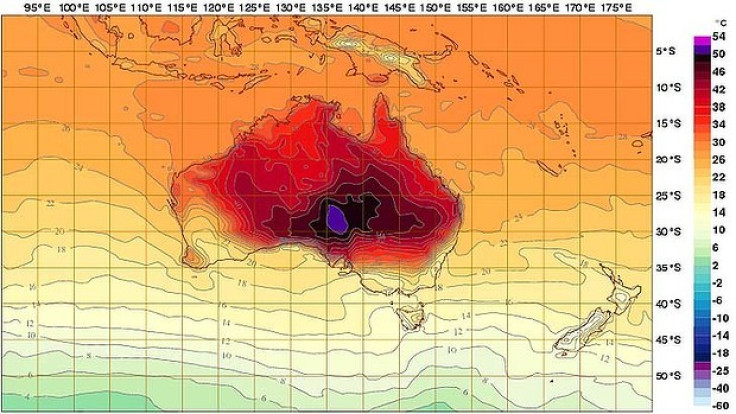 The raging bushfires in Australia have added a new colour to the charts of the meteorological department as the temperature soars to record highs.
The Bureau of Meteorology has added "deep purple" increasing the cap to 54 degrees from the previous 50 degrees.
The temperature has already crossed the record 50.7 degree mark in South Australia and experts fear the worst is yet to come.
"The scale has just been increased today and I would anticipate it is because the forecast coming from the bureau's model is showing temperatures in excess of 50 degrees. The air mass over the inland is still heating up - it hasn't peaked," said the chief of the climate monitoring and prediction unit, David Jones.
The average temperature of Australia has also reached record levels hitting 40.33 degrees on 7 January.
"Today is actually shaping up to be hotter - and it could be a record by a similar margin. The heat over central Australia is not going to go anywhere," added Jones.
Prime Minister Julia Gillard has asked the nation to gear up for possibly the worst day of the calamity. Gillard urged the people to "keep themselves safe".
Fanned by high outback winds, more than 100 fires have been reported across New South Wales (NSW). Fresh fires also continue to break out in Canberra, NSW, and Tasmania. The worst-hit Tasmania region is still on high alert.
National parks and state parks in NSW have also been shut down.
In some parts, the heat is so intense that it is said to have melted the tar on the roads.
"It's shaping up to be a very difficult day. You don't get conditions worse than this. We are at the catastrophic level and clearly in those areas leaving early is your safest option," said Rural Fire Service (RFS) Commissioner, Shane Fitzsimmons.
The Lucas Heights nuclear facility in the southern region of Sydney has also been affected by the bushfires but the electrical failure is believed to have been controlled soon.
The world's driest continent has been witnessing severe temperatures during the last 15 days following a four-month-long dry spell.
No casualties have been reported so far.
© Copyright IBTimes 2023. All rights reserved.