Ex-pat Aussies all over London will be celebrating their national public holiday in style, despite the fact they don't get the day off over in the UK. The holiday, that falls on the 26 January, was traditionally to mark the arrival of the first fleet of convict ship from Britain in 1788 but nowadays it is deemed as a day to celebrate Australian culture, traditional heritage and their eclectic and engaging society.
For those living in the homeland there is still a huge number of ways to celebrate on Tuesday, whether you are just fancying a quick beer after work or up for a big night of partying. Of course, you don't have to be Australian to enjoy 'Straya Day but there seems to be a large population of Aussies who will be out in force.
There are events across London from pubs to clubs so IBTimes UK have selected the best places you can head to to honour Australia Day in style.

Grand Union, Brixton, Acre Lane, SW2 – Head down to Brixton for sausages, cold beers and Australian-inspired 'shenanigans'. Free entry all night and you can book a table on their site. 12pm-3am.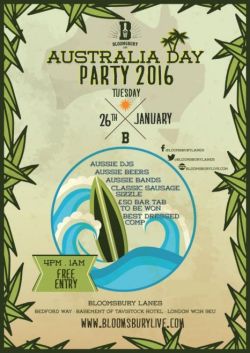 Aussies in London at The Clapham Grand, Clapham, SW11 – A haven for partying Aussies, The Clapham Grand is open from 5pm for a feast of 'Straya Day fun including Bogan Bingo, a nostalgic tuck shop (complete with tim tams), Triple J hottest 100, great Aussie beers and of course a 'barbie from 6pm. £15 entry. 5pm-3am.
Australia Day Beach Party at Bar Rumba, Shaftesbury Avenue, W1 – Bar Rumba are going for full beach party vibes with 241 Sex on the Beach cocktails all night and giveaways throughout the evening too. £5 entry. 10pm-3am.
Bloomsbury Bowling Lanes, WC1 – Australian owned Bloomsbury Bowl is Kicking off their party from 4pm with a boozy afternoon full of good Aussie food and beers including Sausage Rolls, Lamingtons, and a classic Sausage Sizzle. Later on there with will be DJs and live brands performing. Free entry. 4pm-1am.
Waxy O'Connors, Rupert Street W1 – It may be an Irish bar but Waxy's are hosting a full-on Australia Day party in their Rupert Street venue. Celebrations kick off from midday so you can head down for a pint straight after work. Free entry. From midday.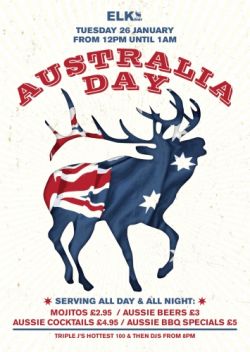 The Elk, Fulham Road, SW6 –Fulham Road has a strong contingency of Aussie residents so you can bargain on this being a busy night. With £2.95 Mojitos, £3 Aussie beers, £4.95 Aussie cocktails and £5 BBQ specials you can guarantee your money's worth while listening to the Triple J Hottest 100. Free Entry. 12pm-1am
Belushis, London Bridge and Shepherd Bush venues –Doors open at midday for a feast of entertainment, immersed in Aussie traditions. Bundy Rum, Fosters and Snakey will all be at the bar with Triple J's hottest 100 countdown on from 1pm. Freebies and giveaways all night as well as Aussie bands and apparently the Aussie Parmy burger in town. Free entry. Doors open at midday.