A prominent Muslim Shia leader has been shot and injured outside a religious hall in Sydney, Australia by suspected Isis sympathisers.
Rasoul Al Mousawi, 47, was locking up the Husainiyah Nabi Akram building in Greenacre in the early hours of Monday (3 Nov) when he was blasted at close range from behind in front of his wife and daughter. Al Mousawi was carried inside and first aid administered before being taken to hospital. The incident is being treated as attempted murder.
"My dad just held his neck and ran inside," Al Mousawi's daughter told Ten Eyewitness News. "Then all I see was like blood running down his head and neck.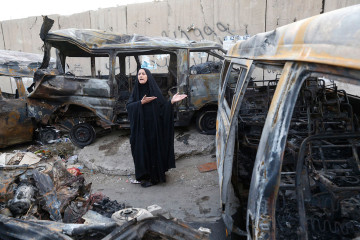 "Doing it behind his back and without him seeing it is... really low," she added. "If you had real courage you would have actually came to his face and did it."
Sunni Muslims with links to Isis - also known as Islamic State - are being blamed as hours earlier men drove past shouting pro-Isis slogans in Arabic. Isis-supporters are said to have been harassing local Shia in the area.
"These people have been conducting a campaign of intimidation for the past few weeks," said prominent Shia Jamal Daoud. "I talk to many of the people in the community, and they're very concerned and they're very scared."
Al Mousawi was observing Ashura, the Shia ceremony which commemorates the death of Prophet Muhammad's grandson. Isis call Ashura "the greatest of their blasphemous seasons" and in Iraq have slaughtered thousands of Shia and other minorities, including car bombs targeting Shia in Baghdad. The attempted murder of Al Mousawi raises the spectre of sectarian hatred spreading beyond the Middle East.
Shia members of the community say they reported earlier death threats but police did not take them seriously. However local police were cautious about directly linking the shooting with violence in the Middle East.
"At this point in time it does not appear that there is any type of motivation for the shooting," said Inspector David Firth. "We're following further lines of inquiry and speaking to witnesses to establish a motive for the offence."
Though he will undergo surgery Al Mousawi's pellet wounds are not believed to be life-threatening and he is reported to be observing the holiest day of Ashura from his hospital bed. Other members of the community Shia are bracing themselves for more attacks from Sunni Muslims, which often intensify during Ashura.
"I think you can put it as the killing season," said one local Shia.